This article is more than 1 year old
Don't crack that Mac: Almost NOTHING in new Retina MacBook Pros can be replaced
Proprietary screws and gobs o' glue
Teardown Apple's new MacBook Pro laptops with Retina displays pack more punch than ever before – Cupertino described last year's 15-incher as the "best computer Apple has ever made," and this year's Haswellified model improves on it.
But when it comes to taking them apart and fixing them, the new designs are more locked down than ever.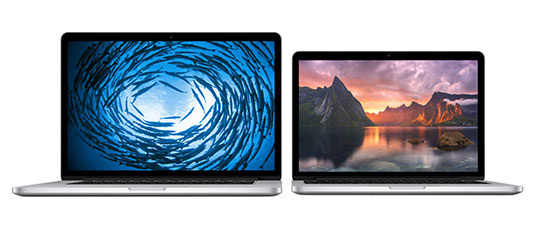 Apple's MacBook Pro with Retina display models from late 2013: Keep your hands on the outside
The hardware dissectors at iFixit.com found Apple's latest 15-inch MacBook Pro "took a turn for the (slightly) worse" where reparability is concerned – which is saying something – while the new 13-inch model dropped a full level down in iFixit's Reparability Score, such that both editions now rate a dismal 1 out of 10.
Not only are the new laptops' batteries fixed in place with buckets of very strong glue, but key components are now soldered to the main logic board, making them difficult to replace but also more likely to break.
For example, the headphone jack is now soldered to the motherboard. That connection could easily come undone through normal wear and tear, but as iFixit observes, "break yours ... and you're looking at a thousand dollar repair."
More significantly, the new MacBook Pros have followed the tradition of the 2012 models by soldering the RAM to the logic board. However much memory you order yours with, that's how much you'll be stuck with for the life of the machine. No upgrades are possible.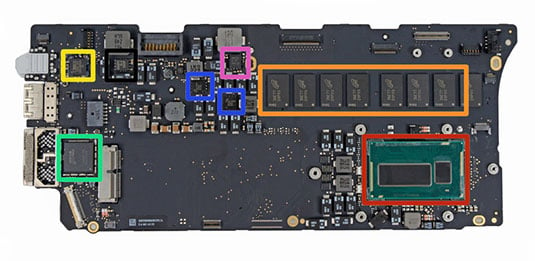 The 13-incher's logic board, showing Intel Core i5-4258U CPU (red) and soldered-on RAM (orange)
Apple has once again used proprietary flash drives in its latest models, too, meaning you won't be able to swap out your storage for off-the-shelf parts, either. Significantly, however, this time around Cupertino has traded out the earlier mSATA drives for PCIe-based parts.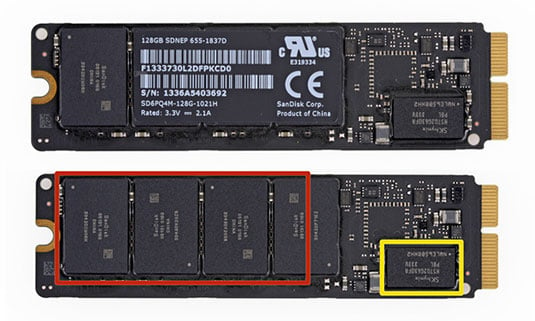 Apple's new, custom PCIe-based SSDs, as found in the latest MacBook Pros (front and back)
If those off-limits components aren't enough to deter you from cracking open your MacBook Pro, Apple has sealed up the case and key internal components using its notorious, proprietary pentalobe screws.
But perhaps the most vexing thing about the new MacBook Pros is that Cupertino has once again chosen to fix the battery in place using not screws but glue, a practice that began with the MacBook Air and now seems de rigueur for all of Apple's laptops.
It's possible to pry the battery from a late-2013 MacBook Pro, but difficult, and the results aren't pretty
This time around, iFixit's repair gurus spent half an hour trying to pry the 15-inch MacBook Pro's battery away from the case and weren't pleased with the results. Complicating the process was the fact that the battery now covers the trackpad cable, meaning not only is the trackpad difficult to replace, but any attempt to remove the battery is likely to shear the cable in half.
"So much for the evolution of design," iFixit observes.
Similarly, the Retina displays in the new MacBook Pros are completely sealed. If the display ever fails, you'll need to replace the entire unit, which is sure to be an expensive repair.
You can check out detailed teardowns of the 13-inch and 15-inch MacBook Pro with Retina display models at iFixit's site, complete with scads of high-resolution photos.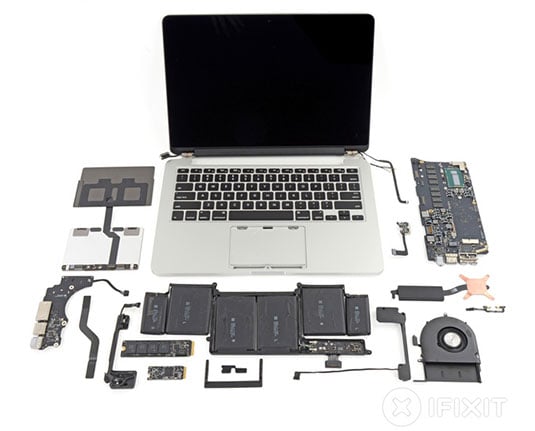 The 13-inch MacBook Pro with Retina display, in all its disassembled glory – but it was a hard-won battle
As the tool-and-repair pros point out, however, if you don't like the direction Apple is heading with how its laptops are manufactured, you may be out of luck. Cupertino has already stopped selling the 15-inch MacBook Pro with a non-Retina display, and iFixit is betting it will discontinue the 13-inch non-Retina model next year.
Given how difficult it is to actually repair or replace anything inside the Retina models, teardowns like these of Apple products may soon be little more than visual curiosities, having no practical value. ®