The US Federal Aviation Administration (FAA) has given preliminary classification approval for a company that plans to offer $75,000 balloon rides to the edge of space.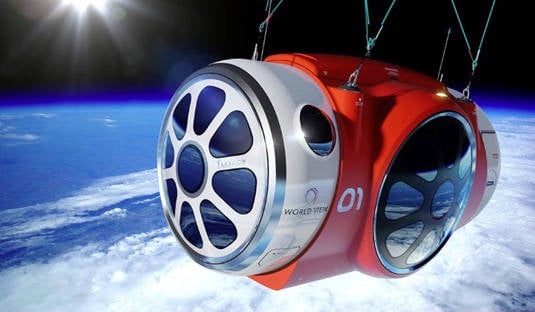 'It's so peaceful up here – pass me a pint, mate'
The company that plans to loft up to eight passengers in a space-worthy balloon gondola to an altitude of 30km in a two to nine-hour trip is World View Enterprises, a startup under the aegis of Paragon Space Development Corporation, self-described as "the premier provider of environmental controls for extreme and hazardous environments."
Specifically, the FAA has found that Paragon's World View capsule qualifies as a space launch vehicle under section 50902(8) of the US code, the section governing commercial space launch activities, and which defines a "launch vehicle" as being "a vehicle built to operate in, or place a payload or human beings in, outer space;" or "a suborbital rocket."
World View's capsule is certainly not the latter, but the FAA has found that it qualifies as the former – but not because it will actually reach outer space, but because the conditions from which it will protect its passengers in its "shirt sleeves" environment are sufficiently perilous to be regarded as space-like.
"At Paragon's intended altitude of 30 kilometers (98,425 feet)," the FAA writes, "water and blood boil, and an unprotected person would rapidly experience fatal decompression. Regardless of whether 30 kilometers constitutes outer space – and the FAA renders no opinion on the question – a person would experience the same physiological responses at 30 kilometers as if exposed to the environment of low-Earth orbit (LEO)."
And so Paragon's World View capsule will be required to have the same pressurization, radiation shielding, and micrometeorite protection as would a rocket-launched LEO-bound vehicle.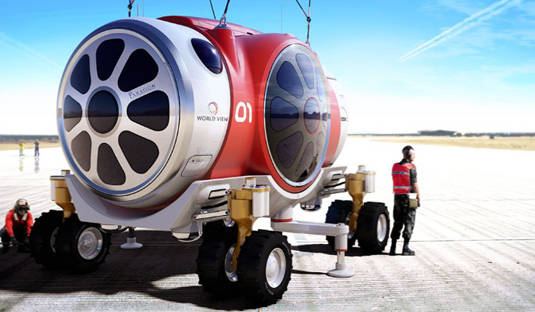 It's no coincidence the capsule looks like a mini-sub – both travel in environments that want to kill you
That's the similarity to your garden variety human-occupied space capsule. The differences are far greater. The World View capsule would be carried to its target altitude by a 396,436m3 helium-filled balloon envelope in a trip that would take between 1.5 and 2 hours. At altitude, it will hang around for two to six hours, and then begin its descent – which, to our lily-livered selves, seems a wee bit hair raising.
The capsule will simply drop from its balloon tether, and fall like a rock, providing its occupants with a period of weighlessness. After a period of free-fall, it will experience "aerodynamic deceleration as a deployed parafoil becomes progressively more effective."
In a marvelous bit of non-ironic understatement, the FAA document notes that "the capsule is designed to land intact," with the steerable parafoil guiding it down to earth in a final, no-retry-allowed parallel pass when it will touch down on its landing skids.
Interestingly, World View's promotional video, below, omits that final touchdown skid-fest, and focuses more on what the company's promotional materials refer to as the "truly transformative human experience" provided by "majestic views of our planet" which are "certain to captivate you, as you ascend to the edge of space."
World View Enterprises balloon-flight animation
And should your space-induced euphoria turn to stomach-churning apprehension at the thought of the inevitable free-fall drop and parafoil-guided skid, do know that the World View capsule does have on board something to take the edge off your fear: a well-stocked bar that will fortify you by ensuring that you can "sip the beverage of your choice." ®
Similar topics