A local market located "at the foothills of the Dandenongs, 25 km from Melbourne", has been nominated as a major locus of DVD piracy by the MPAA.
According to a letter to the US Trade Representative, the status of the Caribbean Garden and Markets is such that it alone should be enough reason for the USTR to add Australia to its list of "notorious piracy enablers".
That would put Australia on a par with MPAA targets like China, the Ukraine, Canada, Indonesia and Russia. The MPAA's complaint says the Caribbean Garden and Markets is Australia's largest physical market for pirated DVDs, and is being ignored by state and federal police "despite multiple entreaties by rights holders".
The MPAA letter describes the 10,000 square metre Caribbean Garden and Markets as "Australia's largest undercover market", something which would at least come as a surprise to Sydney's 20,000 square metre undercover Parklea Markets.
The market was identified as offering out-of-region DVDs identified as counterfeit (according to the MPAA). In Australia it's legal to sell region-free DVD players, something which infuriates the MPAA.
According to the The Age, the watch list includes "Extratorrent, Kickass, Rutracker, Torrenz and China's QVOD and Xunlei among the worst offenders", with Brazil's Filmesonlinegratis, Romania's Movie4k and Sweden's Telona also named as linking to counterfeit content.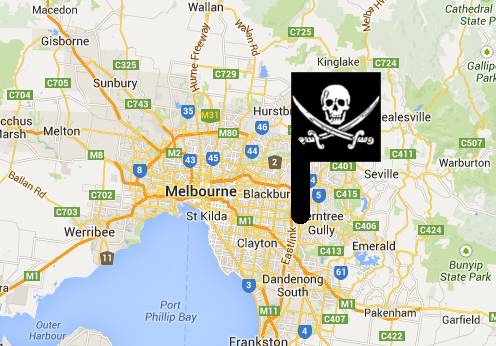 The jolly roger apparently owns Melbourne's
Caribbean Garden and Markets
The Dandenongs are an outlying region of Melbourne often favoured by those who enjoy the combination of semi-rural living and long commutes, but is hardly a hotbed of piracy.
The MPAA's complaint to the USTR comes as Australia's new attorney-general is reportedly hoping to revive the idea that Internet service providers should be responsible for copyright enforcement. ®