All the big dogs want to bark on our cloudy porch, says Nasuni
They quite literally need to think outside the box, apparently
---
Cloud storage gateway startup Nasuni has proliferated its gateway options to fit more storage gateway size requirements, large and small, as well as pumping out a software update.
Cloud storage gateways or controllers are conceptually on-premise boxes that receive data to be sent up to the cloud and tell the cloud storage of choice to retrieve some data. Nasuni - which provides a caching file and block-level access gateway - makes a point of annually rating cloud storage service providers and telling its users which ones are the most reliable and best-performing.
In 2012 Nirvanix was in the rated suppliers but this year Nasuni ejected it – a prescient decision as Nirvanix subsequently collapsed. It claims none of its users have ever lost any data pumped up to the cloud through Nasuni's front-end system.
The latest Nasuni filers include:
On-site virtual machines (VMs).
VMs in the cloud - a cloud gateway in the cloud? We'll come back to that.
Hardware filers with flash that span a wider performance range than before
High-availability filers
Cloud storage gateway in the cloud
The VM in the cloud is for mobile device users so they can connect to a global fileshare. Think of the Nasuni gateway as a caching storage array controller with back-end storage which happens to be in the cloud. That controller can be a VM and use the host server's storage for caching its data. With a mobile user on their travels there is no local caching controller so it is logical to use one in the cloud.
A Nasuni spokesperson said:
"Nasuni introduced a storage controller in the cloud that can be uploaded to Amazon EC2 and Microsoft Azure. It's the first storage controller in the cloud that works with Azure – and that includes Microsoft, even though it bought a hardware cloud gateway from StorSimple last year."
The company believes its independent cloud storage controllers are better than cloud storage service suppliers' own products because Nasuni's span different clouds providing protection against lock-in and specific service failure.
Hardware range
The hardware filer range looks like this:
NF-200 - previous model using 4 x 3.5-inch 2TB disks
NF-400 - 8 x 2.5-inch 900GB disk
NF-400H - 12 or 24 x 2.5-inch 1.2TB disk and high-availability (HA)
NF-440 - Hybrid box with 3 or 4 x 400GB SSD and 11 or 22 x 2.5-inch 1.2TB disk
NF-600 - All-flash box with 24 x 400GB SSDs
NF-600H - ditto plus HA
The SSD boxes are more than twice as fast as the disk ones. HA kit ensures data is available when there is a hardware failure and enables non-disruptive software upgrades.
Here's a Nasuni table listing various aspects of the boxes, such as their local cache size ...

Nasuni's filer range; click for larger image.
... and here's a chart of their relative performance: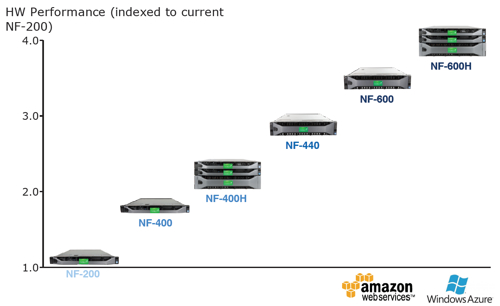 Nasuni filer performance
Andres Rodriguez, Nasuni CEO, said customers were wanting bigger and better gateways.
"Our customers have been telling us that they want to put Nasuni in their corporate data center and, with SSD and HA, they can do so with confidence," he says. "Also, with the addition of the cloud-based virtual Filer, we've also given corporate IT new options for their mobile employees to connect to the global fileshare, plus the ability to vastly improve performance for their cloud-based applications."
The latter point refers to applications in the cloud. Nasuni states: "as more applications like file indexing and big data analytics live in the cloud, IT can achieve far better performance when these applications have rapid nearby access to the data," via a storage gateway controller in the cloud.
Rodriguez adds:
"The NF-600 and its HA version, the NF-600H, are built to compete in the mid-range with the likes of EMC's VNX-5400 or NetApp's FAS 3210."
Disaster recovery
He summed up the new range and what it meant:
The new platform release spans a wide range of workloads: from heavy-duty data center applications that are handled by the new SSD-Based Nasuni Filers to very light weight virtual machines that can now run directly in Amazon's EC2 or Azure. This opens completely new possibilities for disaster recovery as customers can shift the location from which they have access to their storage.
Competitors are trying to achieve the same capability, it seems: "All of the big guys (EMC ViPR) are chasing this technical ideal - being able to dynamically move storage controllers from physical to the cloud and vice versa. They can't do it today because the data and the controller are stuck in the same box. We do it because our controller heads (Nasuni Filer) can move while the data stays in the same place: with our service in the cloud. All of these machine migration is orchestrated by the Nasuni Management Console which can deactivate a Nasuni Filer in a physical location and move the same logical instance to Amazon or Microsoft."
Nasuni's v5.1 software adds enhanced auditing functionality, SNMP and Volume Shadow Copy Service (VSS).
Check out Nasuni's controller product line here. ®