The storage Tardis effect continues: Toshiba has crammed 1TB into a thin disk drive and signed a license to use DenseBits technology in its flash memory products.
The Tardis is Doctor Who's time-travelling telephone kiosk which is somehow larger inside than outside. So it is with storage disk and NAND products which are able to continually hold more and more data inside their small casings.
On the disk front Toshiba has gone and designed a 7mm thick 2.5in disk drive storing 1TB on its two platters. This the MQ02ABF, PDF data sheet here, an updated version of the MQ01ABF, "01" meaning 1 x 500GB platter and "02" meaning 2 x 500GB platters. The areal density is 744Gbit/in2 and the little twin spinner spins at 5.400rpm with a 6Gbit/s SATA interface.
It uses dual-stage head positioning technology to make track location and following more precise, and is available at 759GB and 1TB capacity points. It's intended for use in Ultrabooks and similarly space-constrained applications.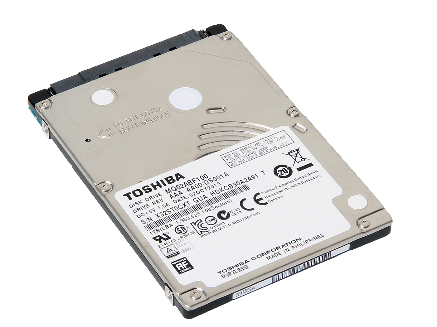 Toshiba MQ02ABF 2-platter 7mm 2.5in disk drive
The company has also signed a license to use DensBits technology. This Israeli startup has devised so-called Memory Modem technology and it's being touted as good for making short-lived 3-layer cell (TLC) flash technology usable. The trouble with this stuff is that it dies after relatively few writes compared to MLC (2-layer cell) flash, meaning that it has been used so far only in USB sticks and camera flash cards - certainly not in enterprise flash applications.
This Memory Modem (MOdulator DEModulator) technology somehow makes TLC longer-lived so it can, hopefully, be used in enterprise-class apps. Our expectation is that Toshiba is looking to it for help in producing TLC NAND for enterprises. Old telephone modem technology once enabled analogue telephone circuits to carry digital data. Presumably - a big presume - the Memory Modem enables a digital flash memory system to receive reliable data from the signals obtained from blocks of flash memory cells.
Dipping into the tinned quotes in the announcement release tells us little, though. Amir Tirosh, DensBits' EVP for marketing and business development, says this:
"Our proprietary Memory Modem controller technology combined with Toshiba's industry leading Flash memory technology will allow the introduction of superior Flash storage solutions in terms of cost, reliability, and performance."
Golly gee.
Sample MQ02ABF drives will be available in November. ®