This article is more than 1 year old
FREEZE, GLASSHOLE! California cops bust Google Glass driver
Tough CHiPS for wearable computing
California cops have issued what is thought to be the first ticket for wearing Google's head-mounted Glass computers while driving.
"A cop just stopped me and gave me a ticket for wearing Google Glass while driving!" said Cecilia Abadie on her Google+ page. "The exact line says: Driving with Monitor visible to Driver (Google Glass). Is #GoogleGlass ilegal while driving or is this cop wrong???"
Abadie insisted her Google device wasn't switched on when she was pulled over by officers for speeding through San Diego at 65MPH.
California cops are notoriously strict about driver distractions, and woe betide anyone caught using a mobile phone without a Bluetooth headset while cruising the freeways. But there are significant legal ambiguities in the rules on driving while viewing a "monitor".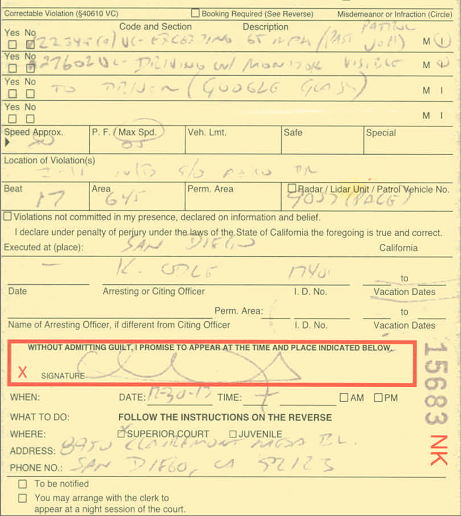 Ticket for wearing Google Glass ... something Erik Estrada never had to deal with
(Click to enlarge)
Certain types of device are specifically excluded from the rules – chiefly GPS screens, media players, satellite radio systems, and display panels that are built into the car. Whether Glass, which projects images into your eyes, can be counted among these – it's perfectly capable of displaying GPS information, for example – is something lawyers will have to figure out.
"Explorers [people who wear the goggles] should always use Glass responsibly and put their safety and the safety of others first," a Google spokesman told The Register.
"More broadly, Glass is built to connect you more with the world around you, not distract you from it. It's early days for Glass and we look forward to hearing feedback from Explorers and others in advance of a wider consumer launch next year."
The Glass screen is off by default for users and the monitor display doesn't cover the eye at all – the hardware was designed to allow full eye contact during a conversation. The device's public FAQ does make it clear that car drivers and bicycle riders should be careful that they aren't breaking the law. ®