This article is more than 1 year old
Need a job? The 'Internet of Things' WANTS YOU
Do you want to install patches for the rest of your life, or do you want to change the world?
ARM TechCon If you're looking for your next career move, one that will guarantee you job security with a company that's dying to hire you, ARM's CEO has three words for you: "Internet of Things."
The Internet of Things – or the IoT as chief exec Simon Segars referred to it during his keynote at the ARM TechCon geek-fest in Santa Clara, California, today – aims to connect billions of smart devices, score data from their sensors, upload it to corporate and governmental servers, analyze the hell out of it, and put that information to use in everything from healthcare to traffic assistance to warehouse management to industrial workflow.
"Generating the data is relatively simple," Segars said. "Making sense of it is quite hard."
Not only is making sense of zetabytes of data fiendishly difficult, beefing up network capability to handle it all is also a challenge. "We're going to need to evolve the network," he said. "We're going to need to increase its bandwidth. We're going to need to lower the latency of data transfer to the cloud and back again."
The network challenges won't only be a result of the impending IoT, he said. There's also the fact that the number of such devices as smartphones is surging as prices for them drop. "When you think about giving a smartphone to everyone on the planet, just think about how that's going to explode," he said.
"If we don't fix the network, if we don't evolve the network, it's going to grind to a halt," the ARM boss added.
"Putting this all together is quite difficult. It requires lots of skills. The promise of IoT is great, but it does need a lot of skills from different disciplines to actually come together to make it a reality. Implementing IoT isn't about sensors. It's not about networking. It's not an analytics problem. It's all of those."
And that, dear Reg reader, is where you come in.
Finding IT professionals whose skills encompass all of those areas is no easy task. If you have such skills, he said, "you should feel good about your job prospects – I think they're looking good right now."
In support of his point, Segars cited a study [PDF], published yesterday, that was commissioned by ARM and conducted by the Economist Intelligence Unit. "The Internet of Things Business Index" analyzes results from a survey of nearly 800 top executives in a broad range of industries which asked their opinions of the IoT and its implementation.
"When companies were asked, what are you going to do, what are the steps you're planning to take" to implement IoT either internally for business purposes or externally as products, one worry came across "loud and clear," Segar said: acquiring the right people with the right skills to make it all work.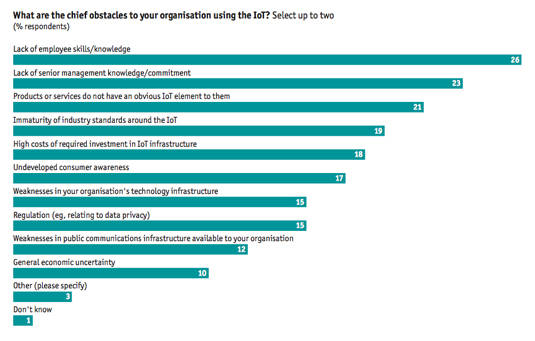 The Internet of Things needs help – are you available? (click to enlarge)
The report also reveals that IoT job opportunities won't be limited to a few industries in a few geographies. "At present," the report states, "over three-quarters of companies are either actively exploring or using the IoT. The vast majority of business leaders believe that it will have a meaningful impact on how their companies conduct business."
Remember, "meaningful impact" can sometimes translate into meaningful salaries, if a company sees plenty of good money to be made selling IoT devices, or plenty of good money to be saved by using the IoT to add efficiencies to their business practices.
Responses were well-distributed worldwide, with at least a third of execs in North America, Europe, and the Asia-Pacific regions all foreseeing that the IoT will have a major impact in most markets and most industries over the next three years.
Tellingly, the region in which the largest percentage of execs predict that major impact is Asia-Pacific – the place where most IoT devices will likely be manufactured.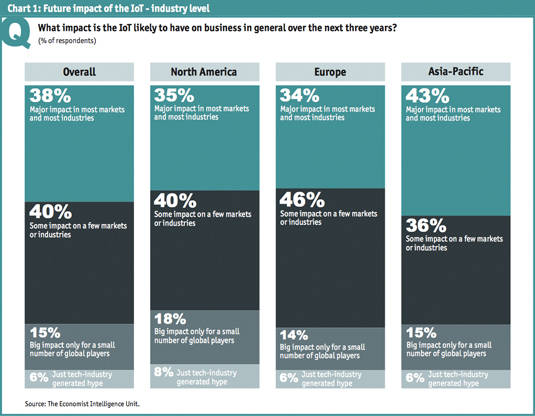 If you think that the Internet of Things is mere hype, you're in a distinct minority (click to enlarge)
There are, of course, dissenters. Six per cent of the surveyed execs dismissed the IoT as merely "tech-industry generated hype." But if you IoT-up your IT résumé and try to sell yourself to some C-level exec who gives you the brush-off, saying the whole IoT idea is B.S., know that he or she is out of the mainstream.
There are plenty of execs who recognize that they need help in ramping up for the IoT. "It talks in the report about a potential war for skills – a skills shortage in IoT – a war for skills that is breaking out," Segars said. "So again, if this is an area in which you have expertise, things are looking good for you." ®