HOLY how-did-we-get-here?: Batman Arkham Origins
It's Dark-Knight-by-numbers as a new developer takes over the series
Review It might be that I'm just a Batman fan, it might be that I've yet to be jaded by the Arkham series – certainly not to the extent that I am with the Call of Duty and Assassin's Creed franchises – but I just can't help but like Origins.
Set on one particularly hectic Christmas Eve during the early days of Bruce Wayne's caped career, the multi-platform Origins finds time to not only depict a huge expanse of Gotham City, but also to provide the setting through which the Dark Knight meets many of his soon-to-be arch-nemeses.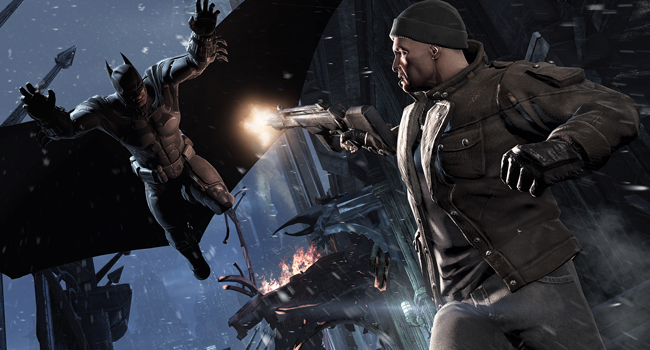 Bullet the blue sky
Warner Bros Games Montreal must have been nose-deep in dust in the DC archives when picking the roster of heinous villains on show. Firm favourites such as the diminutive Penguin and muscle-bound Bane are there as a matter of course. So too lesser-known bad guys, Killer Croc and Deadshot among them, that will have Batman fans nodding knowingly.
But then we come to those of whom, frankly, I have never heard – the Electrocutioner, anyone?
Still, familiar or not, each bad guy is skilfully woven into an engaging plot that takes Batman into all kinds of bother as he battles the sinister Blackmask and his bevy of hired assassins.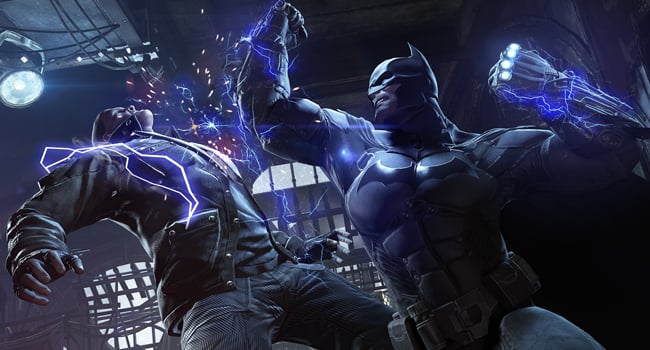 Thunderbolts and lightning
Arkham fans won't be surprised to hear that Batman will also come across a host of side-quests that further add to his stress. Without getting too spoiler heavy – for the plot is the most original bit of Arkham Origins, as I'll come to – the Dark Knight can expect to lock horns with Enigma, Anarky and more as riddles are solved and bombs diffused against the clock.
As always, both story-led and optional content is punctuated by brawl after brawl with the common thugs of Gotham. Though perhaps it's here where fans of the previous Rocksteady games might begin to feel a little let down.
For you see, while Arkham Origins does largely everything that Arkham City did, it doesn't necessarily do anything differently. That's a problem because it places Origins firmly in the "playing it too safe" camp alongside the likes of Assassin's Creed and Call of Duty.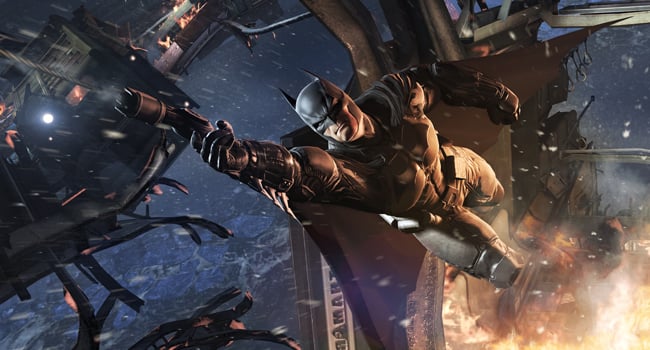 Lift 'em on up
Origins does hold one ace though: the unique combat of which I personally have yet to tire. Batman's free-form kicks, punches and counters still have a hypnotic quality to them. The difficulty of some of the engagements – largely due to the numbers and armaments of your opponents – is certainly tough enough to offer a sense of achievement.
Add to that a couple of extra enemy types – such as the ninja, which requires extra dexterity on the part of the player when it comes to countering – and you have a system that still feels good despite the admitted similarities to the rest of the series.