Blocks and Files The SMART flash DIMM announcement has opened up a major server memory redesign period.
The idea of packing NAND chips tightly together and accessing them in the same address space as main memory is highly attractive to server manufacturers looking for an edge in running applications faster – faster than PCIe flash for example.
SanDisk has bought SMART and now has a DIMM outlook (sorry). My understanding is that all the major server suppliers are looking at non-volatile memory DIMMs and designing future servers with storage memory.
They aren't just using NAND either but envisaging post-NAND technologies such as Phase Change Memory (PCM), Spin Transfer Torque (STT) RAM or some flavour of Resistive RAM (ReRAM) technology.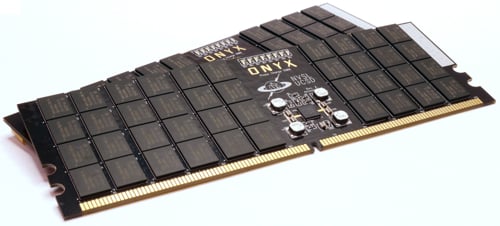 Onyx PCM card
This technology transition will make storage memory byte-addressable instead of block-addressable; the programming model would change. There would need to be a software layer – such as Memcached – to present storage memory as pseudo-RAM to applications.
We could, for example, conceive of x86-populated motherboards populated with storage memory DIMMs.
Cisco's UCS servers are known for having large amounts of RAM. Building on its Whiptail all-flash array acquisition it would not be surprising if Cisco were to announce storage memory-using servers in 2014. We're surely going to see Whiptail arrays using UCS servers instead of the Supermicro mills they currently employ.
Dell, IBM, and HP server engineers and designers must be actively looking into the same storage memory technology.

SMART ULLtraDIMM - a flash DIMM
And it's not just server manufacturers. Storage suppliers with an interest in PCIe flash are also looking at this topic. For example, I'm convinced that WD with its Virident PCIe flash acquisition is looking at the field, as well as Fusion-io. There is a go-to-market issue for the non-server suppliers, as in, who do they sell to?
Do they pursue IEM deals with the server suppliers, or retrofit deals with independent system vendors?
Moving on, in some scenarios a bunch of clustered storage memory DIMM servers could remove the need for an external flash array and talk to persistent external storage disk drive arrays for bulk capacity.
I'm seeing storage memory DIMMs as predominantly a server supplier play, and one that limits the applicability of all-flash arrays. Am I smoking pot here? Tell me what you think is real - and if reality bites my ass then I'll have learnt something, which will be good. ®