This article is more than 1 year old
Google RIPS aside curtain, exposes Nexus 5 phone, KitKat Android 4.4 coupling
At last, the wait is over on leakiest smartmobe in ages
Google has released its latest major Android build, version 4.4 codenamed KitKat, and has started selling its new Nexus 5 smartphone as the first device to run the new OS.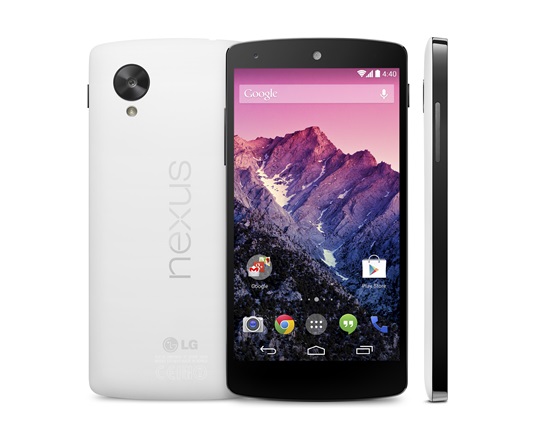 Behold, Google's shiny new mobe ... the Nexus 5
KitKat, aka Android 4.4, has faster multitasking and full voice control, according to Google, and a smarter caller ID system so that if the number dialing in isn't on your contacts list then Android will take a guess at who it is using businesses listed on Google Maps.
KitKat devices can now send documents to printers directly using Google Cloud Print or HP's ePrint system, and Quickoffice has been redesigned to make finding files easier and editing documents and spreadsheets more simple. The email application has also had a facelift, as has the download function.
The Chocolate Factory promises that KitKat will be able to run on a wider variety of hardware than other versions because it doesn't require the latest and greatest hardware to run. By shutting down background services and trimming memory requirements, Google reckons KitKat will need just 512MB of RAM to run smoothly.
That said, in the near future it's only going to be available for high-end hardware such as the Nexus 4, 7 and 10; the Samsung Galaxy S4; and the HTC One Google Play edition. As for the Nexus 5, of the major US carriers only Verizon isn't carrying the handset, and it is also available unlocked in the US, Canada, UK, Australia, France, Germany, Spain, Italy, Japan and South Korea.
Google has stuck with LG as its hardware maker for the Nexus 5, rather than switching to Motorola as some rumors had suggested. The mobe comes with a five-inch 1920-by-1080-pixel display (that's 445 pixel per inch) and is powered by a Qualcomm Snapdragon 800 processor running at 2.3GHz with 2GB of RAM.
LTE and dual-aerial Wi-Fi (802.11 a/b/g/n/ac) is built in and the handset has two cameras – a bog-standard 1.3Mp front facer for videoconferencing and an 8Mp rear camera. For auteurs, there's also a new HDR+ mode that takes multiple shots quickly and combines them into a single photo that takes the best features from each image.
The new Nexus – one of the most gossiped-about smartphones in a while – is the slimmest one yet at 69.17 x 137.84 x 8.59mm and weighs in at 130g. Google claims the 2,300mAh battery is good for 17 hours talk time, 300 hours of standby and 8.5 hours of use with Wi-Fi, or seven hours on LTE. Wireless charging and NFC is also built in.
The Nexus 5 will cost $349 for the 16GB version and $399 for 32GB of storage, but there's no slot to fit any removable media, presumably since we're all supposed to be cloudy these days. Google has also eschewed Apple and Motorola Mobility's fruity color schemes – the Nexus 5 is available in black and white only. ®