Just in time for the holiday shopping season, US bookseller Barnes & Noble has refreshed its Nook line of e-readers with an upgraded glowing E Ink model.
The new Android-powered device is essentially a refresh of the earlier Nook Simple Touch with GlowLight version, although this one drops the Simple Touch branding in favor of the simpler Nook GlowLight moniker.
The biggest change in the new unit is the screen. The Nook GlowLight now comes with an E Ink "Pearl" display at 758-by-1,024 pixel resolution, which is the same part that Amazon used for its 2012 Kindle Paperwhite model. (The 2013 Paperwhite uses newer E Ink "Carta" technology.)
The result, B&N claims, is that text is 60 per cent sharper on the Nook GlowLight than it was on the previous generation of Nook Simple Touch devices.
B&N has also improved the built-in front light on the device so that the display is illuminated more evenly, and it says it is using a new anti-glare top layer material on the display and a new lamination process that combine to make it more durable.
The device's internal storage has been doubled to 4GB – which is also twice the storage of the latest Kindle Paperwhite – although B&N says only 2.5GB of that are available for content and 80 per cent of that is reserved for content downloaded from the B&N online store. Still, the bookseller says the Nook GlowLight can hold up to 2,000 books.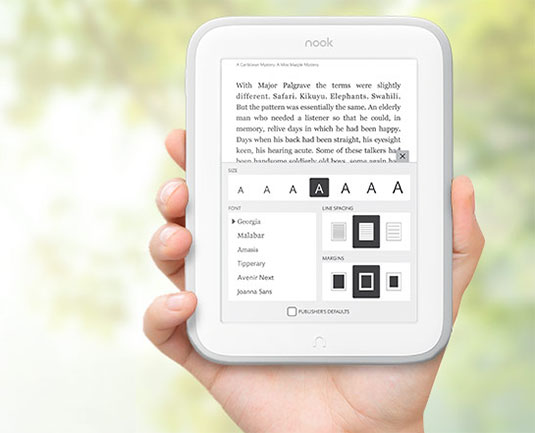 The new Nook GlowLight seems to be aiming for a softer image than its black-clad predecessor
The battery life is listed at eight weeks with the built-in light on at default brightness, which is another improvement. The older Nook Simple Touch with GlowLight only claimed one month of usage with the light on.
Even with its beefier battery, however, the new device is at least 12 per cent lighter than previous Nooks, at 6.2 ounces (176g) instead of the Nook Simple Touch's 6.95 ounces (197g).
Otherwise, the new Nook functions much the same as previous ones, although B&N says it has made a few tweaks to its onboard software to make it easier for customers to find content in its online e-bookstore.
One change not everyone will like, though, is that while the Nook Simple Touch came in black, the new Nook is available only in a pale gray case with rubberized gray accents, a color scheme more in keeping with that of the original Nook model from 2009.
The new Nook GlowLight went on sale on Wednesday at Barnes & Noble stores and via the retailer's website for $119 – and while that's the same price as Amazon's entry-level Kindle Paperwhite, B&N hastens to add that unlike the $119 Kindle, the Nook GlowLight doesn't show you ads in between e-books.
Customers looking for a bargain, however, might look to the earlier Nook Simple Touch with GlowLight model. That version is currently still selling on B&N's website for $99, but the company has already discounted it for the holiday season in the UK and it has run similar promotions in the US in recent years. ®