This article is more than 1 year old
Fed up with Windows? Linux too easy? Get weird, go ALTERNATIVE
Something really different to broaden your worldview
It's hard to believe, looking at the modern computing world, but there is still more to life than Windows or Unix… and today, most of the alternatives run on vanilla x86 hardware and are free.
Most of them need considerably lower resources than the market-leaders, too, so an old PC is ideal for trying them out. VMs are fine, but you can't get a real feel for an operating system until you've installed it on bare metal.
If you were around in the late 1990s, you might have heard of former Apple exec Jean-Louis Gassée's startup Be. Be Inc started out making its own hardware, then ported to Apple's Power Macintosh hardware, then to x86 and then, after a few final struggles, went under and was bought out.
You can still download the evaluation version of the final release, BeOS 5 Personal Edition, but it was built for tail-end-of-the-'90s hardware, so it's a bit dated today.
However, its spirit lives on in the form of Haiku, a from-scratch FOSS reimplementation which runs the original Tracker desktop and some of the handful of BeOS 5 apps. It's one of the most polished and modern-looking alternative OSes out there, too.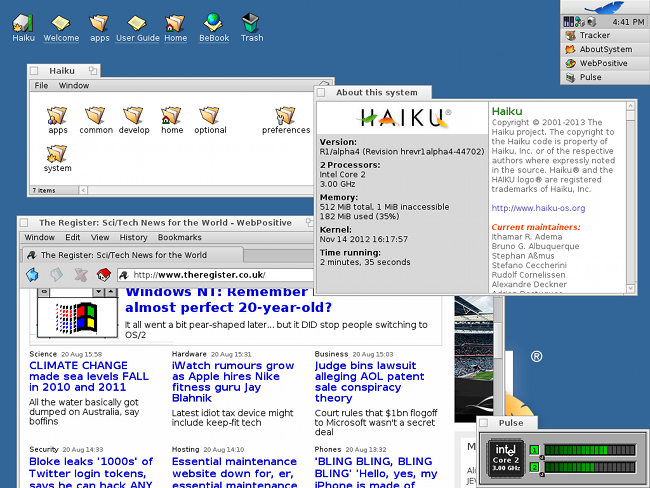 Haiku is well on its way to being a complete FOSS replacement of BeOS. (click to enlarge)
(If you miss BeOS but are content with Linux, there's also ZevenOS, an Xfce-based Ubuntu remix that manages to look uncannily like the real thing.)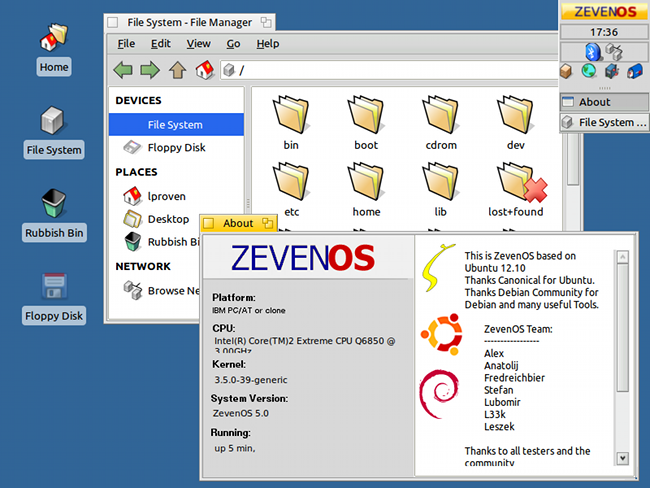 ZevenOS, meanwhile, is Ubuntu with Xfce, but skillfully re-skinned to offer the BeOS look and feel.
The BeBox was intended to be a geeks' machine, akin to the Amiga before it. AmigaOS itself lives on – there's a modern PowerPC version, a commercial clone and a FOSS reimplementation: AROS. It's API- but not binary-compatible, but it can emulate the old hardware, and even has an 68000 version for an all-FOSS install. If you're not an old Amiga hand with suitable software hanging around to try on it, there's also Icaros, a distribution with additional preloaded apps.
Huzzah for Windows NT...
Another re-implementation of an existing system aims at something more contemporary: Windows. Yes, there's an open-source effort to recreate Windows NT: ReactOS. It's an interesting idea, but if it ever gets close to completion, I suspect that it will get sued into oblivion with remarkable swiftness.
Another interesting offering, from the turn of the century, is AtheOS – made even more remarkable by the fact that it was a one-man effort. Its creator, Kurt Skauen, has moved on to other things, but the FOSS community has since forked AtheOS to create Syllable. (There's a server product of the same name, too, but it's a Linux distro rather than the Syllable OS.) Although AtheOS started out as an AmigaOS-like system, Syllable doesn't remotely resemble anything Amiga-like any more.
Another ground-up project – albeit one which went closed-source – was Robert Szeleney's SkyOS, but sadly he halted development in 2009. The last beta version was made freely available this year though, if you can find it.