Doctor Who @ 50 "Oh, you might have spent a million years evolving into clouds of gas... and another million as downloads, but you always revert to the same basic shape: the fundamental human. End of the universe and here you are. Indomitable, that's the word! Indomitable! Ha!" - the Tenth Doctor.
Much discussion is given over to the timey-wimeyness of Doctor Who, but not so much to the Tardis' ability to zip through space as well as it does through time.
In the Doctor Who future humans colonise space and live happily on distant planets (New Earth) and in space stations (The End of the World), travelling the galaxy aboard all kinds of ships (42) and even sitting on the edge of black holes (The Impossible Planet). Doctor Who has presented many different potential habitats for folk to live in and ways for them to get off the third rock from the Sun.
But just how close is the science fiction to the science fact, and what would it take to work, travel and live in space?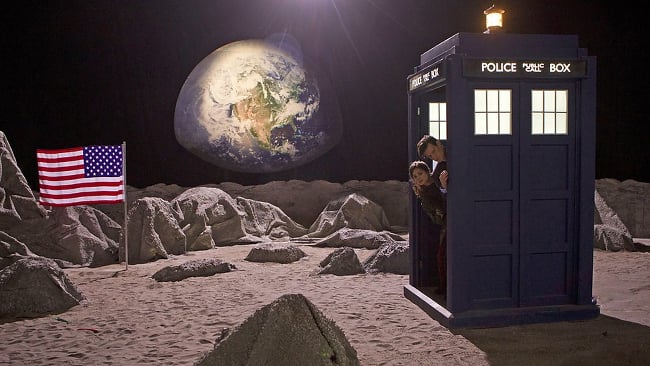 Source: BBC
In real life, the race is somewhat on to put the people outside the reach of Earth's pull, on Mars. Former rocket scientist and the world's first private space tourist, Dennis Tito, has come up with a mission to get two people on a round trip to the Red Planet in just five years' time. The pair, likely a married couple, won't get to land, but they are aiming to survive the trip.
For his part, famous internet zillionaire and rocket kingpin Elon Musk wants to establish a colony of 80,000 people living and working on the red planet.
There's also Mars One, a not-for-profit foundation that wants to establish a permanent human settlement on Mars in 2023. There are no billionaires in this push, so they figure they can do it by getting volunteer astronauts to audition, train and go through with the mission on TV to fund the trip.
But why limit ourselves to planets? This hardly begins to touch on the potential for freespace structures - platforms, stations or whatever you want to call them - that will spin or float or sit on the edge of gravity wells to form fully man-made places for humans to live.
For this, you need fuel and materials to get started and move about - and that's where firms like Deep Space Industries (DSI) are hoping to come in. DSI plans to start mining asteroids for metals and materials that would be useful not just back here on Earth, but to those who are hoping to journey on and to build new worlds for themselves in space.
The reasoning is that hauling materials up from Earth to develop and sustain operations would be too expensive and slow, so DSI would build a waystation in free space on the cosmic highway towards other space stations, planets or moons.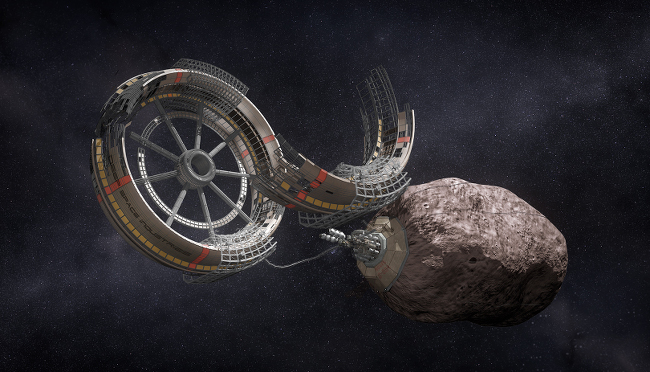 The gas station at the end of the universe. Credit: DSI
"One of our analogies to investors was an interchange on a big motorway," DSI chairman Rick Tumlinson told The Register. "It's as if it's the interchange where you go there to Mars, that way is the Moon, that way is on beyond and we're at that interchange.
"And we're going to drop a big oil well down and we're going to create a gas station and refine the oil, and [have] a restaurant and an oasis and a building supply store - that's what we're going to be doing using asteroid materials."
Big sky thinking, but the devil is in the details. Never mind the difficulty of actually building that gas station complex, getting men and material in location in the first place is going to be hard enough. DSI and its rival space mining firm Planetary Resources are still in the planning stages of how they would even get out there and land on asteroids, not to mention mining them for the raw materials our own planet is running out of.
Among the challenges, and in no particular order: there's the need for spaceships that can get you out there and back safely, the small issue of food, water and waste disposal for the crews, the unknown psychological and physical impacts of space and planet-dwelling on workers, and - oh yeah - the fact those going into space must survive the omnipresent background radiation found in space beyond the Van Allen belts that will likely saturate and kill them before too long.