Just an aspect of risk
"If we can mitigate it sufficiently, it could become almost just an aspect of risk. If you're increasing the risk of cancer by one per cent or something like that, that may be an acceptable risk to certain professions - certainly we have other professions that deal with workforce risk," suggests Whitesides.
Tumlinson suggests the best protection would come from living under the Martian soil rather than from shielded structures on the surface or in space.
"There is an illusion that because we live on the surface of the Earth that people are going to go build cities on the surface of Mars or the Moon," Tumlinson said, "it's absolutely incorrect."
"If you go to Mars, you're going to be living under Mars not on Mars. At least until they come up with some magic Star Trek-like space screen generator thing, which is not out of the question - look at all the other things that we never thought would come out of Star Trek that we have now! But until then, we're going to have live underneath the surface to protect us from radiation."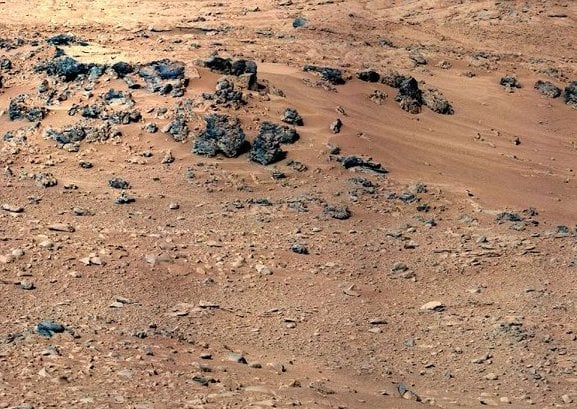 This is what a real Martian settlement might look like. Credit: NASA/JPL-Caltech/MSSS
"We're biased towards a place that has a sky and the mythology that goes with Mars. We're planetary surface-dwelling creatures and we like big open skies, even if most of us don't live anywhere we can even see the sky most of the time. But it's a romantic notion so Mars will probably be where you begin to see some of the first development of permanent civilisation," Tumlinson said.
With somewhere safe underground on the Red Planet to go to, the key for the ships would become to make the journey as fast as possible, trading off between the length of exposure and the weight of the rocket.
"Always take a banana to a party, Rose: bananas are good!"
Assuming shielding is sorted, the next big considerations would be food and water and somewhere to put waste.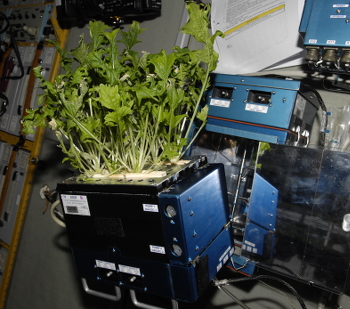 Mizuna lettuce being grown on the ISS. Credit: NASA
Experiments on growing food in space have been taking place aboard the ISS since 2002 - the space station has what it calls a "green house" that's been used to conduct 20 experiments. Test have been conducted to establish what crops can be grown and consumed safely in space, what micro-organisims grow on the plants, how to clean plants after harvesting and what techniques are best suited to growing plants in conditions with small amounts of gravity. This has included looking at different rooting materials with different rates of fertiliser release. Among the crops grown before being harvested and frozen for the return trip to Earth was Mizuna lettuce.
Growing food is important for more than simple nutrition - it's got a practical objective, too. Once people start heading out on trips that are going to last longer than a year, they'll stop being able to fit all the food they need in the tin can with them. Also, there are believed to be psychological benefits from growing your own veg and being around plants, too.
"I've heard from folks that go on the International Space Station and people who go on long journeys across the ocean that having that bit of soil and green, some form of green life, is a really great thing," Whitesides said.
Space pioneers will also have to contend with the fact that they won't be flushing a toilet and watching their turds float out into space, they're probably going to need those pieces of shit.
"There's no bigger environmentalist than someone who's floating above the Earth in a closed tin can, rebreathing their own air, redrinking their own urine and eating food that's been grown from their own body waste," Tumlinson said.
"All of the water that comes off of the human body or out of the human body - sweat, evaporation, breathing, exhalation and all the obvious bodily functions - all of that water is going to need to be 100 per cent recyclable or as close to 100 per cent recyclable as it can be."