Analysis Does anyone else other than Google, Samsung and Apple make popular branded smartphones? Well, if you follow the market you'll know there are many brands and many flavours of Android today competing for customers.
Some 32,000 voices at Nokia will strongly disagree with my opening proposition – you've heard of Windows Phone, right? – and workers at LG, Motorola, HTC and Alcatel will too. But gradually it's becoming clear that the fight for smartphone dominance is between just Google, Sammy and Apple.
With its latest Android KitKat OS and its new flagship Nexus 5, Google is tightening its grip on its operating system, something it has been doing for a while.
The Java-ish OS was once touted as an "open system" but it is increasingly a portal for Google ads and services. With its focus on low-end devices, Google has set about trying to fix the wretched "Landfill Android" end of the market, which has seen Nokia and no-name manufacturers in China, along with similar hardware builders in developing markets, make significant gains.
The net result is an Apple, Samsung and Google stand-off. A side effect is that the importance of Android has been deprecated. For developers it now increasingly resembles Marc Andressen's famous description of Microsoft Windows - "a poorly debugged device driver layer".
Google has seen the Chinese strip out Google services. In China, "no name" is the biggest brand of all - and the "backpackman" who goes from village to village doesn't really care what he sells. And it has seen Amazon fork Android completely.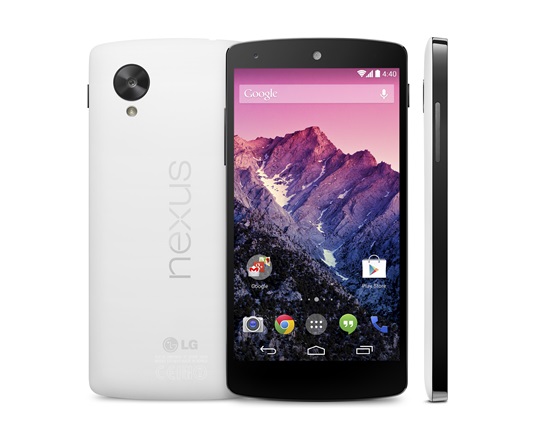 The LG Nexus 5 ... out now with Android 4.4 KitKat
Google's response to these two trends is to reassert control by coupling vital phone functions to its own web services and to its online software marketplace, called Google Play. This is really no different to Tesco lending you a shopping terminal, but you can only use it to buy stuff from the supermarket giant.
For example, KitKat's phone dialer consults Google search. Google Hangouts is the default messaging system. You are permitted a little more freedom in Google's plantation than you are in Apple's plantation - but not much more.
Google has also indicated its determination to do something about Landfill Android™, the cheap and unpleasant experience offered by underpowered hardware running Android. KitKat will lure the low end (or unbranded) manufacturers to Google.
And in doing so the company is directly taking on Samsung. Samsung has been the sole undisputed financial winner from Android, thanks to Google subsidising the project. (I'll leave aside Microsoft, which arguably makes more from Android in royalty payments than it does from its own Windows Phone.)
Samsung's success comes not just from its runaway hit Galaxy S handsets, but from hitting a range of price points that cover contract sales in developing markets and pre-pay in mature markets. Samsung trusts Google so much (or not as the case may be) that it duplicates nearly every application or service with its own alternative - you get two of everything.
By taking on the Landfill segments, we'll see Samsung dragged into a scrap it didn't really want to fight - against Google. It can now only be a matter of time before it breaks cover and makes a Unilateral Declaration of Independence. It is halfway there already.
And I see this happening sooner rather than later. Perhaps the only delay is whether Samsung chooses to break this to the world as "The Samsung API" or to sweeten the proposition with some platitudes. For example, it could instead choose to portray its break with Google as a "Really Open Alliance", an industry initiative, with slogans like "Returning Android to its roots". However it does it, the great break up looms.
Any bets on Samsung flying the flag for this in Barcelona at next February's Mobile World Congress? ®