App design and research firm Fiksu has claimed that five times more fanbois are using iPad Airs than the iPad 4 after their release late last week.
Fiksu measured the numbers of people who were using apps designed using its platform. It found that 0.88 percent of the people using its apps were accessing them on an iPad Air, compared to the 0.15 percent using the iPad 4 in the first three days after its release.
The firm's customers include Groupon, T Mobile and Ask.com.
If their figures are accurate, it could give Apple a well-needed boost ahead of the Christmas holidays. Here's the graph which illustrates Fiksu's claims: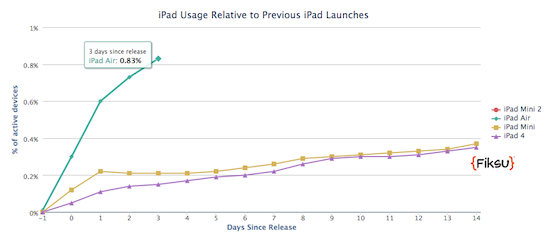 Frankly, the news has surprised your humble reporter. The iPad Air went on sale last Friday and in London at least, the reception was muted.
Fewer fanbois queued through the night to be among the first to fondle the new slab, while stock levels remained high. In contrast, the iPhone 5S flew off the shelves, selling out across Britain within hours of going on sale. ®
Similar topics