Doctor Who @ 50 Here we see the total running times of each Doctor's regular episodes in which they were the lead – so not counting return appearances with a later Doctor; Patrick Troughton and Jon Pertwee in The Five Doctors, for instance.
With seven years in the role under his belt, Tom Baker's Fourth Doctor is clearly the longest serving, although not so far ahead of William Hartnell's three years as the First Doctor as you might suppose. In the 1960s, the series was on TV almost all year round, as opposed to only six months a year on screen in the 1970s.
Eleventh Doctor Matt Smith's expected departure in this year's Christmas Special will mean he'll fall just short of Tenth Doctor David Tennant's tenure, although both outlasted the Fifth Doctor (Peter Davison) by a good few episodes' worth of appearances.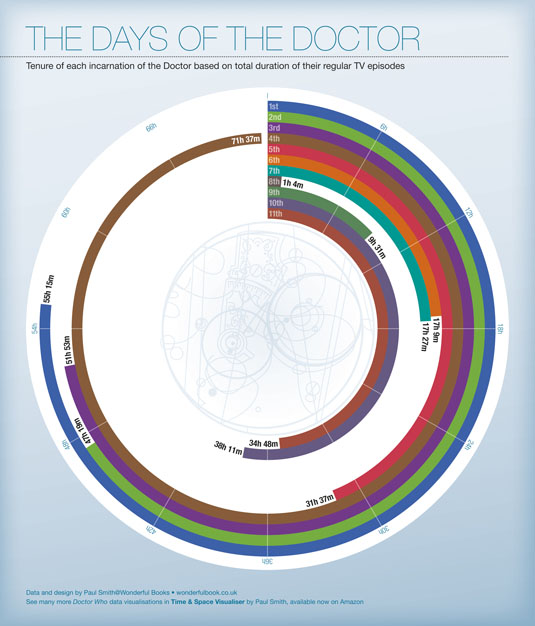 Click to see the visualisation full size
Source: Wonderful Books
The shorter season lengths of the late-1980s leave the Sixth and Seventh Doctors (Colin Baker and Sylvester McCoy) with fewer than 18 hours' on-screen time. The short-lived Ninth Doctor (Christoper Eccleston) barely reached half of that.
The shortest serving Doctor of all, though, is the Eighth (Paul McGann), who starred in just over an hour of his own 90-minute TVM in 1996. ®
The image comes from Time & Space Visualiser: The Story and History of Doctor Who as Data Visualisations by Paul Smith, published by Wonderful Books and available through Amazon UK and Amazon US.