This article is more than 1 year old
No, it's NOT Half-Life 3 – it's Valve's lean, mean STEAM MACHINE
They won't all look like this, but yes, it really does exist
Pics Video game maker Valve has let loose the first photographs of its prototype Steam Machine hardware, in addition to sharing a few more details about its plans for the upstart, PC-based console.
The photos come care of a report in the Seattle Times on Monday, which gave us our first glimpse at what an actual piece of Valve-made hardware will look like.
Not surprisingly, perhaps, the device is a black box that resembles a piece of consumer electronics more than it does a traditional PC. But unlike some other OEMs that have marketed PCs for the living room, Valve says it's thinking about more than just making Steam Machines look good next to your TV set.
"They would often do pretty well at cooling or industrial design, but that was only a fraction of the problems they need to solve for customers to have a good entertainment experience in the living room," Valve hardware designer Craig Coomer told the Times.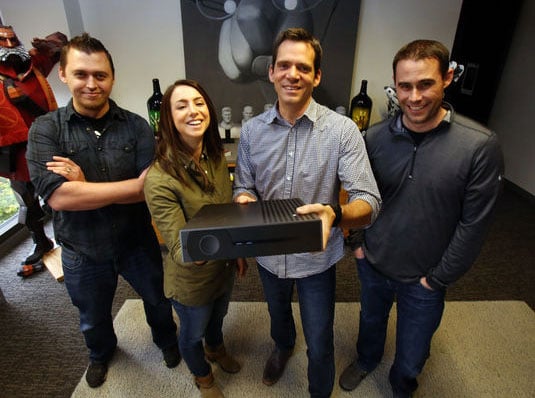 The Valve team shows off its prototype Steam Machine console (Credit: Ken Lambert/Seattle Times)
Fan noise is a particular concern for some users, so Valve has been working on ways to increase air flow in the machine's case to make cooling more efficient.
Mainly, though, Valve says that even though Steam Machines will essentially be off-the-shelf PCs, it has put a lot of effort into developing a UI for Steam OS that gives users full control over the 3,000+ games in its library without fumbling around with a wireless keyboard and mouse on the couch.
A lot of that comes down to the unique controller Valve has been developing for the system, which is wireless and replaces the traditional mini-joysticks of most console controllers with force-feedback trackpads and an LCD screen, for greater flexibility.
Valve still has some work to do there. The 300 prototype Steam Machines it's planning to send out to a beta-test group soon will come with a less-fancy version of the controller that won't include the LCD screen and will connect via USB.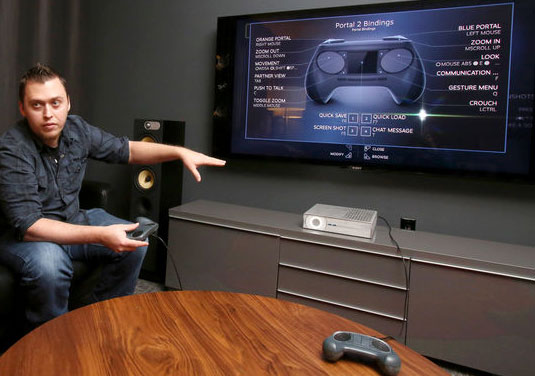 A UI that allows players to easily control a full PC was a key goal (Credit: Ken Lambert/Seattle Times)
That may be because the current generation of the Steam OS hardware is still literally homemade. A staff of about 40 employees – 12 per cent of Valve's total – has reportedly been beavering away to design and build the boxes in workshops at Valve's Bellevue, Washington headquarters, even going as far as to produce parts for them on in-house 3D printers.
The 300 prototype machines are currently being assembled at a shop in nearby Overlake, in the shadow of Microsoft's Redmond campus, where Valve cofounders Gabe Newell and Mike Harrington first met while working on early versions of Windows.
Valve has said that the prototype Steam Machines are intended as reference devices only, and that it expects its licensed partners to produce a variety of Steam OS hardware, some that might be very different from the prototypes.
Valve has also hinted that it is also working on developing a variety of other hardware of its own, including wearable computing devices and headsets for augmented reality.
Some of these offerings are likely a long way off. But Valve says the first raft of Steam Machines and related products should be announced to the public soon, most likely at the Consumer Electronics Show in Las Vegas in January, and that they should go on sale by mid-2014. ®