From here to ETERNUS and beyond: Fujitsu refreshes array lines
Says it has a million-IOPs MONSTER lurking in basement
Fujitsu has replaced virtually all of its ETERNUS storage product line, bar the entry-level and high-end products, with a new generation promising unified block and file access, deduplication and greater performance.
The aim is to make the arrays better able to support workloads like databases, OLTP, virtualisation, file management, business analytics and big data consolidated onto a single storage system. The S2 DX80, 90 and 400 arrays are replaced with four new models, the DX 100, 200, 500 and 600. We might think of these products as the S3 (Series 3) ETERNUS product generation but Fujitsu isn't using S3 branding.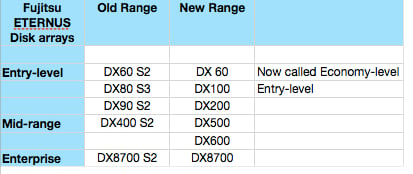 As part of this the controller and storage hardware and software has been upgraded:
Faster processors with more cores
Better multi-processing and multi-threading
Caching using SSDs
SAS-3 12Gbit/s disk interfaces
Doubled bus performance
Unified block and file access across the entry-level and mid-range
Deduplication and compression (coming in the near future)
Power efficiency measures
Higher-density disk shelves
The storage controller software distributes its workload across multiple threads and cores to better balance processor resource use.
A net effect of all these changes is that the arrays can support larger workloads. According to Fujitsu: "The density of virtual servers or virtual desktops can be increased by factor [of] five within the same model class."
The company also claims a fivefold increase in IOPS performance and a threefold increase in bandwidth.
Fujitsu says the rejuvenated ETERNUS family has a seamless architecture with greater component interoperability. Storage admins will be able to take advantage of:
Automated quality of service driven by policies and schedules
Fine grade resource use reporting - good for usage-based chargeback
Fine grade automated policy-driven storage tiering using smaller chunk sizes than previous tiering algorithms
Transparent failover
With this new generation of ETERNUS DX arrays, Fujitsu has a line of storage arrays better able to compete with EMC's refreshed VNX line as well as arrays from Dell, HDS, HP, IBM and NetApp.
Fujitsu says the high-end DX8700 has already been enhanced so it can handle peak loads of one million IOPS. A free download enables better routing of data flows in the controllers, leading to decreased access and response times.
Deduplication and compression will be delivered at a later date, as will the automatic switching off of unused disks. ®