Forget 'Call of Duty: Ghosts' - how does its rival from EA stack up?
Decent, decent - but you'll want a new console or top-spec PC
Review To borrow from football parlance, Battlefield 4 is your proverbial game of two halves. There's the dry single-player campaign that, for all its bluster, offers few new ideas. Then there's the juicy multiplayer version that will pull you in and devour your life.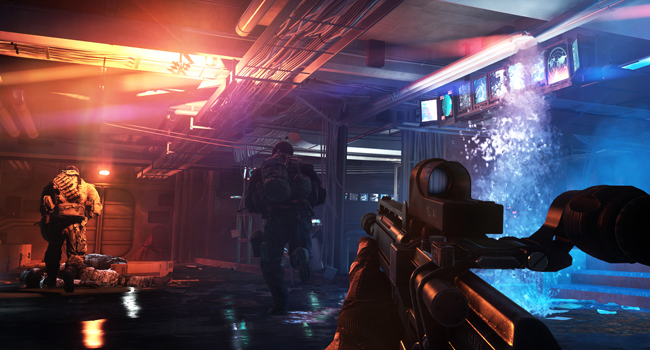 Squad manoeuvres
My usual approach to writing games reviews is to hammer the single-player mode before dipping a toe into multiplayer. With Battlefield 4 that approach seemed entirely inappropriate, so hopefully you'll forgive me for skipping over of parts of that campaign.
Suffice it to say, the story is as bombastic as it is ludicrous, and your squad mates are entrenched in the "Could this get any worse? Oh look it did..." cliché. Oh, and there's a kick-ass woman in it too. Will wonders never cease?
There's even a torture scene – edgy, obviously – and an obligatory stealth stage thrown in, you know, for variety's sake.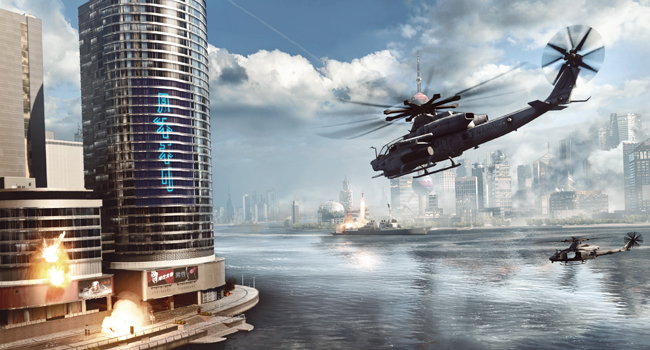 Chopper action
You'll spend your time clearing rooms of hostiles, which you'll know is accomplished when your fellow, seemingly preternatural squaddies suddenly stop shooting and find a door that only they can open. Then it's a simple matter of rushing off to the next set piece.
What the solo experience does show off nicely, however, is the array of land and sea-based vehicles on offer, all presented through a series of chases. It also demonstrates the Frostbite 3 engine's ability to move the fight from complex indoor environment to huge outdoor arenas in the blink of a sun-struck eye.
There is a caveat: just how impressive everything looks depends entirely on what system you have at your disposal. Having seen BF4 on a high-end PC, before eventually spending the majority of my time with the game on an Xbox 360, I can confirm the difference is startling – despite the mandatory 2GB install.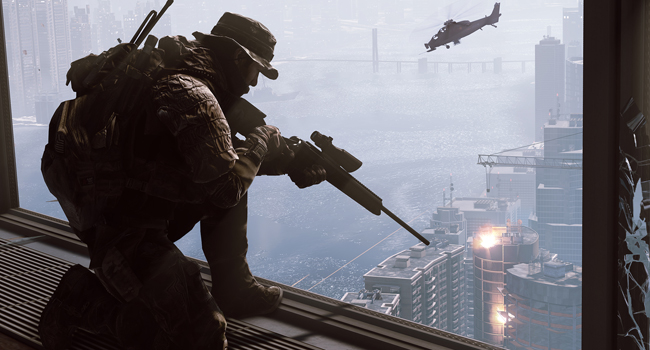 Hyper sniper
The feeling is the equivalent of a short-sighted person taking their glasses off and trying the read a distant bus number. Jagged textures, object pop-in and faltering frame rates – particularly during hectic fights – all make an appearance. It's enough to make you yearn for a PS4 or Xbox One – or simply a ninja PC.
Thankfully, such faults are more forgiveable, and less noticeable, when you take to the online battlefields. Again, it's unfortunate for owners of current-generation consoles that only 24 players can do battle simultaneously, a far cry from the 64 player collisions that the PC and next-gen consoles offer.
Online, Battlefield 4 plays like the gaming equivalent of a "Best of..." album, with all your favourite modes making a return. And there's a new level of destruction that leaves particularly well-equipped players able to level tall buildings.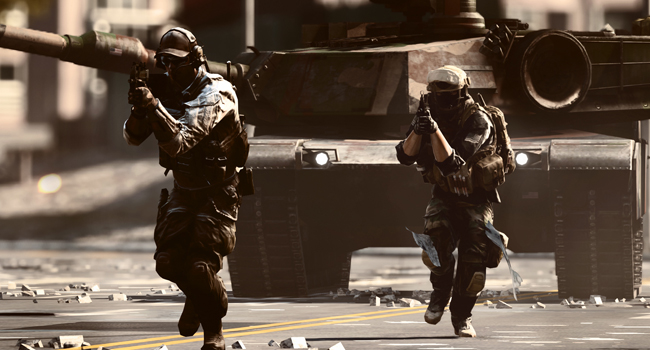 Shouldn't the grunts follow the armour?
Modes on offer include Conquest, the standard capture-and-hold mission type; Obliteration, possibly the most explosive, in that it involves the detonating of bombs to score points; and Rush, which pits attackers versus defenders in another battle of bombs. They do seem to rather like bombs over at developer DICE.