The US Federal Bureau of Investigation has added five new names to its "Cyber's Most Wanted" list, bringing the total number of fugitives urgently wanted in relation to computer and data-related crimes to 17.
"The FBI leads the national effort to investigate high-tech crimes, including cyber-based terrorism, espionage, computer intrusions, and major cyber fraud," bureau spokesman Richard McFeely said in a statement. "The expansion of the Cyber's Most Wanted list is a reflection of the FBI's increased efforts in this area."
One of the new inductees is Andrey Nabilevich Taame, a Russian national wanted for his alleged involvement with DNSChanger, a malware scam that infected some four million PCs between 2007 and 2011. Six other men were arrested in the FBI's 2011 DNSChanger sting – dubbed "Operation Ghost Click" – and at least one pleaded guilty earlier this year, but so far, Taame has avoided capture.
Two others added to the most-wanted list are Farhan Arshad and Noor Aziz Uddin, both Pakistani nationals who are wanted for allegedly hacking business telephone systems to make unauthorized calls, resulting in some $50m in losses to the affected companies. They're believed to be part of an international criminal conspiracy that included people not just in Pakistan, but in Italy, Malaysia, the Philippines, Saudi Arabia, Singapore, Spain, Switzerland, and elsewhere.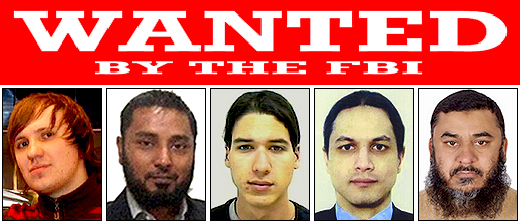 Have you seen any of these men, in person or online?
There's also Carlos Enrique Perez-Melara, an El Salvadoran who allegedly ran a spyware-for-hire scheme out of an apartment in San Diego, California in 2003, but later fled to his home country.
The FBI is offering up to $50,000 for information leading to any of the above. (Perhaps you've seen them on Google+ – or Chatroulette?)
And then there's Alexsey Belan, another Russian. He's wanted for allegedly "remotely accessing the computer networks of three U.S.-based companies in 2012 and 2013 and stealing sensitive data as well as employees' identities." The FBI hasn't named the companies in question, but they're said to be based in Nevada and California.
Wanted since 2012, Belan is apparently a wily sort. He's known to use aliases, wear disguises, and hop around between Greece, Latvia, the Maldives, Russia, and Thailand. Maybe for that reason – or maybe for the seriousness of his alleged crimes – the FBI will pay up to $100,000 for information on his whereabouts.
The five join an illustrious list of fugitives, including among others Artem Semenov, wanted for his alleged involvement in the Zeus Trojan scam; Peteris Sahurovs, who was briefly arrested in a scareware sting in 2011 but apparently escaped; Bjorn Daniel Sundin and Shaileshkumar P. Jain, both sought for their alleged involvement with another scareware scam; and Alexandr Bobnev, wanted in connection with an online banking fraud scheme.
"Throughout its history, the FBI has depended on the public's help and support to bring criminals to justice. That was true in the gangster era, and it's just as true in the cyber era," McFeely said. "We need the public's help to catch these individuals who have made it their mission to spy on and steal from our nation and our citizens."
People with knowledge of the whereabouts of anyone on the FBI's list are asked to contact their local FBI branch office or submit a tip online. ®
Similar topics