Interview Canalys's APAC channels conference in Bangkok last week was jam-packed with senior execs, from HP's Meg Whitman to top dogs from EMC, Cisco and Microsoft and their counterparts in major distributors and resellers.
But flying in under radar was one veteran exec simply listed as a "distinguished guest".
In a 33-year career, Bernd Bischoff spent four years at IBM, before spending 21 years at HP, becoming European VP and general manager of commercial channels at HP. He then joined local boys Fujitsu Siemens Computers, where he became CEO and president before leaving in 2008 around the same time Fujitsu took complete control of the joint venture.
Bischoff's career spanned the PC explosion, and the subsequent expansion of the channel, but he presciently called time on his involvement with IT in 2008, before the current PC implosion.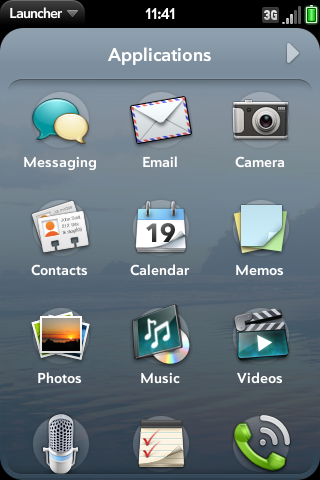 Palm's WebOS launcher... HP 'bought Palm for a lot of money and then did nothing. But now it's too late'.
Since then he has been linked to consultancy gigs, but apparently has no inclination to get back into the industry. This leaves him able to talk freely about the parlous state of all the major players, the mistakes that got them here, and the chances of them retooling for the future.
We spoke with a visibly relaxed Bischoff shortly after Meg Whitman had delivered the opening keynote speech at Canalys' Channels Forum conference in Bangkok.
Whitman had delivered an upbeat performance, albeit one that recognised HP still has a way to go in the multi-year turnaround plan she has sketched out. She spoke of HP's commitment to PCs and its channel, while dropping in some nuggets such as an entry into 3D printing, and downplaying the immensity of her task by suggesting that running California might have been an even tougher task than turning around HP.
Bischoff, though, was sceptical of exactly how far HP could turn itself around: "They've made too many mistakes in the last few years."
In mobile he said, it had blown its chance to build a business around Palm. "They bought it for a lot of money and then did nothing. But now it's too late."
Mistakes, mistakes and more
As for its PC business, despite the reversing of Whitman's disastrous predecessor Leo Apotheker's cataclysmic effort to offload the PC business, he was confident "they will sell it soon." The only problem, he said, "now it's too late to sell."
For all its efforts to get into services and software, including the apocalyptically bad Autonomy acquisition, Bischoff predicted the best HP can shoot for is to become a sort of mini Blue. "They are not as strong as IBM. They will become a little IBM, the number 2. But IBM, they have more software, more services."
"The good thing for HP is that they're not just in the PC business. [Otherwise] Life would be a huge struggle. They still have other things.
The problem is, he continues, "They also make mistakes in the others - it's good that the company is relatively stable but if they would have done another Leo Apotheker…"
However, according to Bischoff, HP's ailments started long before the disastrous reign of Whitman's predecessor, Apotheker. "Their problems started as well with the cost-cutting and [when] innovation stopped."
I ask if he's talking about former HP CEO Carly Fiorina, or Mark Hurd. Or perhaps someone even earlier.
"Fiorina had other problems, she didn't stop innovation. That was Hurd. He was the cost-cutting guy which was maybe good for one or two years. But you cannot do that for longer."
If there is any comfort for HP in Bischoff's analysis, it is that most of its rivals are in at least as bad a position. At least from his perspective.
Who's going to do WELL? Lenovo... at least in PCs
Bischoff was floated as an adviser for a ground to top restructure of Acer following the eruption of an excess inventory mountain at the Taiwanese vendor in 2011. His former Fujitsu colleague Walter Deppeler is a senior corporate VP at Acer.
"They asked me if they could tell them how to get into a bit more small and medium business," Bischoff recounts. "And then they reported the quarterly results and decided to lay off people. I said if you want to be in small and medium business you have to recruit people.
"That makes no sense - I don't want to do something that from the beginning I know it will not work because they are not ready to invest yet."
"I think he [Deppeler] really wanted to do more, because they are not strong in SMB. But that was a people business - not as much as you need for big accounts but it's different to the consumer business."
Asked where he sees Acer heading, Bischoff simply declares that the only people he sees doing well "at the moment in that whole business is Lenovo".
However, Lenovo faces its own issues building an enterprise business beyond the client. Bischoff is sceptical of rumours that IBM was ready to sell its x86 server business to the Chinese giant, bolstering the client business it bought from Big Blue some years ago. "You really think IBM will give them their server business? I wouldn't do it."
This is not just a just a question of IBM handing over key technology or patents. "They also need not only the developers but the sales force - because that experience Lenovo doesn't have."
It is also experience that Gianfranco Lanci – former Acer CEO and now Lenovo senior VP for EMEA – doesn't have. "That is something he really doesn't understand," says Bischoff with a hearty laugh.
Something else Bischoff doesn't understand is where his most recent employer Fujtsu (formerly Fujitsu Siemens Computers) is heading.
"All the people I knew well, they are no longer there, so I don't get information about what they really want to do. They are not performing too well, you can read that, but I have no idea of where they want to go"
Would I do it all over again?
"The big servers is a good business for them," he continues. "But the rest...services - that was a much better biz 10 years ago. They also have low end services where you don't make profit and it's not sustainable."
With such a bleak outlook on the industry he worked in for 33 years, as well as all the specific firms he's been involved in, it's tempting to ask Bischoff whether he would choose to join it were he starting out today.
So we do, and he goes very quiet.
"I would think about not the companies we talked about at the moment." Rather he refers to one of the earlier keynote sessions at the conference, where Canalys CEO Steve Brazier told channel and IT players they had to focus on and nurture their "spikier" employees - the ones prepared to go against the grain and tout new ideas and build new businesses.
Apple gets a nod, so does Google. "So these kinds of companies that might be more interested to do something new. There are a still a lot of ideas - security is something maybe a startup or something. The old stuff is…."
The old stuff is what? Bischoff doesn't say, but lapses into silence briefly.
So how did the likes of HP, Fujitsu et al get into their current state? Bischoff was there after all.
The glib answer is their management all made mistakes. Or perhaps the same mistake. From Bischoff's point of view, they abdicated their ability, or responsibility, to innovate and dictate the future of technology. "They thought leave that to Nokia and some other companies." [He notes wryly that Nokia itself eventually took the same approach.]
The top of the traditional tech companies became stuffed with "people who they don't see right or left coming. That's the big problem.
"You need the people who will die in your company - who are saying 'you have to go with me'."
Even paying attention to what your customers say they want isn't enough, he says. When it comes to spotting a gap like the iPhone, Bischoff says, "research is not giving you that, because customers are not thinking about it."
"You need the revolutionary ideas...and you need the mix of young people old people and gender and anything. Your team is representing your customers. If they all are 50 years and male, you will not meet the customer needs."
"Just think about if HP had done an iPhone, an iPad. How successful they could be these days - they had all this technology." The tone seems to be wonder and frustration that a firm with this history of innovation and all the cash resources that accrued as a result could have gotten it so horribly, consistently wrong in recent years.
Bischoff goes quiet again, and we wonder whether he still has shares in his former employer.
For the remaining players, and the pretenders, we ask, isn't this all a bit depressing?
"Yeah, but that happened to Unisys the same was happening. It happened in the first world of computing - the Unisys, the Burroughs, and then it started for Digital, then with Compaq - Compaq got eaten. They all made mistakes. A good example in Germany was Nixdorf.
"If you don't make the right decision at the right time, you are gone relatively fast."
And with that, Bischoff was gone, to play some golf with some fellow veterans in Thailand before returning to his rather comfortable retirement in Bavaria. Proof that sometimes the trick is to make the right decision at the right time, and then to leave relatively quickly. ®
Similar topics