Computing appliance
This 2.0GHz entry-level model does provide build-to-order options with 2.3GHz or 2.6GHz processors costing an extra £100 or £300, respectively. However, the only way to get the discrete graphics card back is to buy the high-end configuration that runs at 2.3GHz, doubles the memory and storage to 16GB and 512GB, respectively, and includes an Nvidia GeForce GT 750M. Unfortunately, that configuration costs an eye-watering £2199 – and still only gets you a mid-range graphics chip, so it hardly represents great value for money.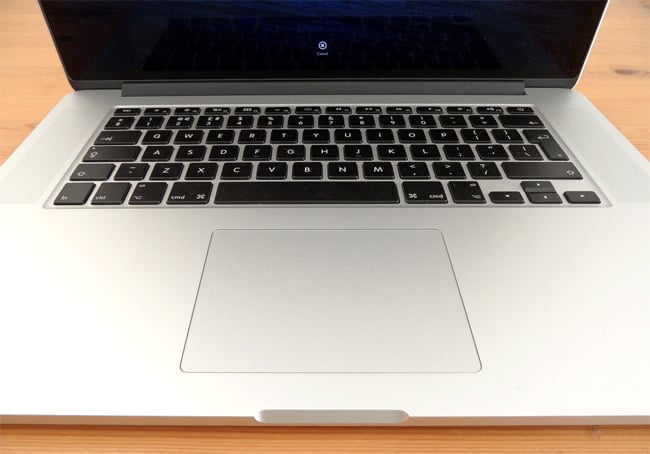 Illuminated and inflexible: the MacBook Pro has one of the best keyboards around
Apple has always tended to cut corners on graphics in order to pad its profit margins, but the lack of a build-to-order option that would allow you to add discrete graphics to the basic 2.0GHz configuration seems like a particularly cynical move.
Intel, on the other hand, deserves plaudits for the performance of both the Haswell processor and the Iris Pro. The 2.0GHz basic clock speed of the i7 can get a TurboBoost kick right up to 3.2GHz, and that is reflected in a GeekBench score of 12934, compared to 11060 for last year's 2.3GHz Ivy Bridge model. That's not bad given the lower base clock speed of the Haswell chip.
My next step was to fire up Doom 3 and Batman: Arkham City in order to test 3D graphics performance.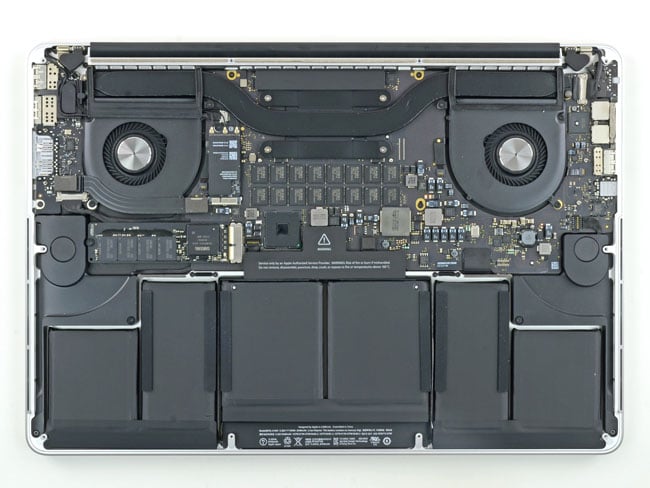 An entirely un-upgradeable interior
Source: iFixit.com
The ageing Doom 3 was slightly befuddled by the high resolution of the Retina Display, not least because it's only coded to run at a maximum resolution of 1600 x 1200. At that resolution, the Iris Pro breezed to 184fps even when using Ultra Quality graphics and 4x anti-aliasing, and it didn't seem to slow down when I increased the AA settings either.
As I expected, Batman brought things down to earth again, but even here the Iris Pro performed far better than any of Intel's previous integrated graphics efforts. In fact, its 1.2GHz clock speed and 128MB of dedicated embedded graphics RAM came close to matching the performance of an entry-level discrete graphics card.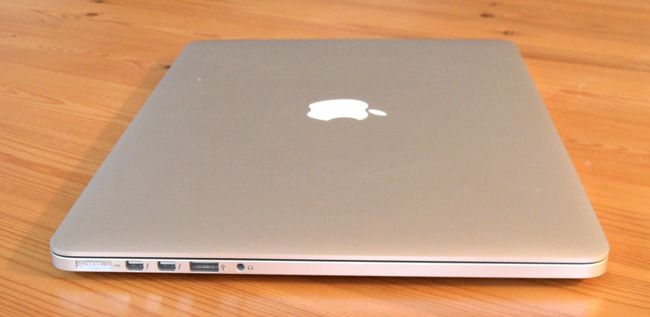 There's a pair of Thunderbolt 2 ports round the left-hand side
With Batman running at 1920 x 1200 resolution, with graphics quality set to High and 4x anti-aliasing, the MacBook Pro managed a just-about-playable 24fps – and the game looked pretty fabulous too. Turning off the anti-aliasing allowed it to hit 32fps. Step down to 1680 x 1050 and those scores rise to 28fps and 37fps respectively. At 1280 x 800 it hit 42fps and 53fps. That's certainly in a different league from the integrated graphics we've seen in the past – although, of course, it's still not a match for the discrete graphics card that was included in the previous model.
The snappy PCIe interface used for the SSD drive also helps to make the MacBook Pro feel very snappy and responsive.
Duplicating my 50GB iTunes library of AAC music and MP4 video took 150 seconds, which works out at 341.3MB/s – even faster than the i7 version of the 2013 MacBook Air that we reviewed recently. Numbers aside, the thing that really impressed me here was that most of the smaller file transfers that I carried out with the MacBook Pro seemed to happen instantaneously, without even seeing the Copy status bar appearing on screen.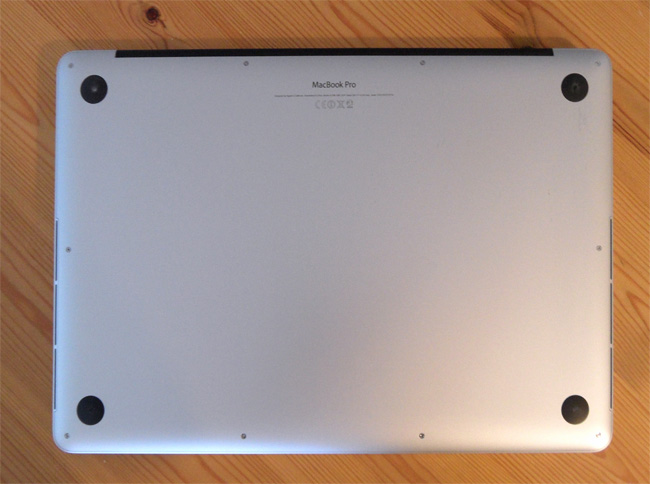 No user-serviceable parts within
The other big advantage of the Haswell upgrade is its improved battery life. The teardown at iFixit indicates that this 15-inch model is using the same battery as its predecessor but Apple claims that the Haswell processor allows it to extend battery life from seven to eight hours.
In fact, that estimate seems to be fairly conservative and the MacBook Pro comfortably exceeded eight hours while I was working with it. I got a full eight hours and 20 minutes of streaming video using the BBC iPlayer, and more general web browsing and use of MS Office gave me another hour on top of that.
The Reg Verdict
Intel's done a great job with the Haswell processor and its Iris Pro graphics, but the loss of the discrete graphics card is Apple as Ebenezer Scrooge. Nonetheless, the Retina Display MacBook Pro is still a delight, and will justify the high price for many folk who really need that high-quality display - or acres of screen pixels. There are always cheaper PC alternatives, of course, but if you've got the cash to splash then the 15-inch MacBook Pro with Retina Display is still very much at the top of its class. ®

EYE-GASMIC: Apple MacBook Pro 15-inch with Retina Display
The price cut is sleight-of-hand stuff, but this is still the classiest 15-incher around and will earn its keep for creative and professional users.