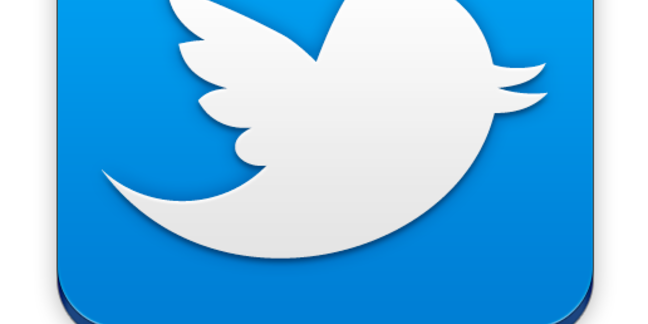 Twitter and its financial advisors will be patting themselves on the back and counting their bucks after the firm's first day on the stock exchange saw its perceived value rise 73 per cent at the close of trading.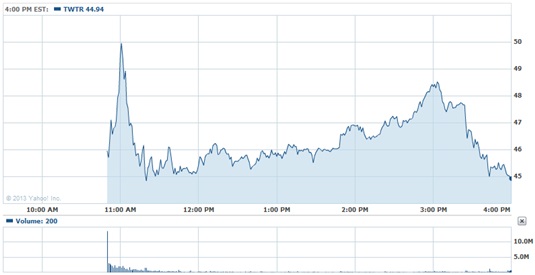 Investors piled into the stock at the start of trading; nearly doubling its initial $26 IPO price to $50.09 before the sell-off began. Prices rose again through the day before brokers took their profit and the stock price settled down to $44.90 at the close of trading at the New York Stock Exchange.
The other big winners of the day were the vampire squids at Goldman Sachs, after the company earned itself an estimated $59m in fees for handling the IPO.
Twitter executives didn't open trading themselves, but left the traditional ringing of the stock exchange well to a motley collection of famous and not-so-famous users of its service. These included the social media manager for the Boston Police, a nine-year-old who used Twitter to set up a lemonade stand, and the actor Patrick Stewart – who confessed he had only started using the service in the last year and wouldn't be investing.
"I'm not a financial person at all and nobody should take my word as a good reason for investing in anything," he said, The New York Times reports. "But it is a brilliant organization, and the impact it has worldwide is so extraordinary, and furthermore, it's free."
For now at least, Jean-Luc. Twitter still has yet to turn a profit and its users have been vocal about rumored attempts to monetize the service by spamming their Twitter feeds with adverts and sponsored posts. We'll have to see if Wall Street gets its money's worth, but Twitter played the market beautifully, unlike other social media IPOs.
Twitter first set the price range for its public offering at between $17-$20, then raised that to between $23 and $25 before settling on $26. Given the excitement in secondary market the company looks to have judged it just right, given the healthy end of day's results, whereas Facebook's high initial IPO sent the stock plummeting on its debut. ®
Sponsored: Webcast: Simplify data protection on AWS