A profit-starved Twitter saw its shares debut on the New York Stock Exchange today with a price tag $45.10.
The micro-blogging site, which earlier this week issued an explanation to would-be investors about what its service actually offers, set its initial public offering price at $26 last night.
First indications from the floor of the NYSE suggested that the price should open at $40 to $44 - similar to price range Facebook debuted with on to the Nasdaq in 2012, only to immediately slip as shares began trading.
Importantly, however, unlike the Nasdaq - which witnessed Facebook suffer a gigantic flop on Wall Street in May last year - the NYSE undergoes what it describes as a "price discovery" for companies immediately before they float on to the market.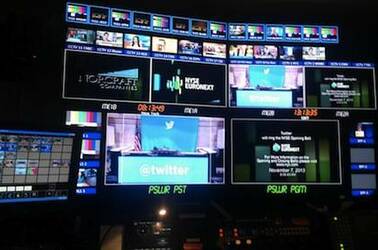 TWTR debuts on the New York Stock Exchange. Pic credit: NYSE man @tonyw21
On Wednesday, Twitter tweeted, naturally, that it would be stuffing 70 million shares into the exchange on its debut to conjure up more than $1.8bn for the site co-founded by Jack Dorsey, Evan Williams and Biz Stone in 2006.
Underwriters also have an option - if demand is there - to buy 10.5 million more Twitter shares and offload them over the coming weeks. That move could net the company $2.1bn for its IPO.
The share price range bobbed around a fair bit before it settled on $45.10, shifting from $40 to $44 up to $43 to $47, then slipping slightly down again to $45.50-$46.50 as the stock bedded in on Wall Street.
At time of writing, Twitter stock was chirpily trading comfortably above the price range at close to $50 per share. But will the TWTR stock symbol still be happily sitting on its perch come closing time? ®