This article is more than 1 year old
We've invented the FONBLET, says Samsung
Analyst presentation reveals Korean giant's Big Data WORLD DOMINATION plan
Samsung has thrown an analyst day in Korea and the deck of slides shown to the rune-casters has found its way onto The Reg's hard drive.
The deck contains pretty much what one would expect, including a pledge to make Samsung the world's "most beloved company" in part by making sure its products are seen to be used by the beautiful, famous or especially athletic. It also reveals that Samsung believes there's life in the top end of the smartphone market yet, predicts tablets with screens larger than ten inches are a market that will grow at more than 20 per cent and suggests curved phones, handwriting-detecting tablets and smart watches are also markets set to provide "new growth momentum".
There's also a hint of convergence in a slide titled "Strengthening full line-up & Leading the Post-PC era" depicting 2010 as the year of Samsung's tablet range, 2013 as the year the company offered tablets and its Note range and 2014 as the year in which another, unspecified, category of device will emerge.
The next slide mentions the Galaxy Note and labels it a "Fonblet", a term we'll leave you critique.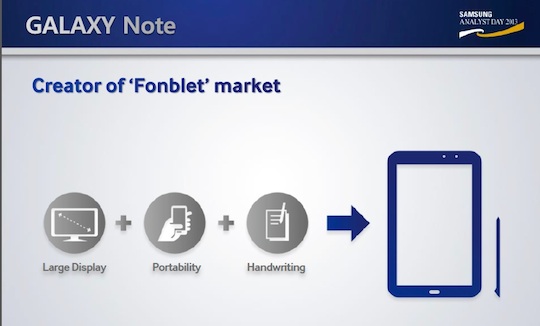 The presentation also suggested that Samsung intends to do more with content and services partners, by piping them into its platforms.
A more sinister slide hints at Samsung harvesting users' data to create what it's calling "personalized services" that seem set to include more health apps, gaming services and location-based offerings.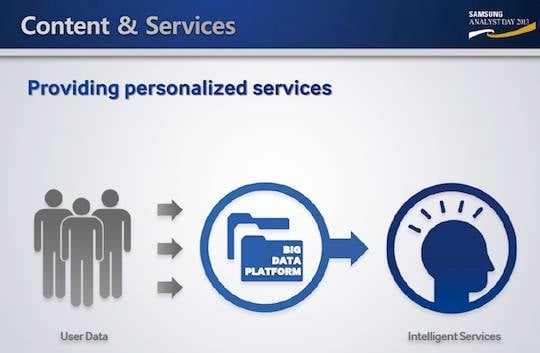 The slide deck can be found here if you'd like to peruse it yourself.