Well, that was quick. Apple has released bug fixes for two of the troubled OS X Mavericks apps that have been causing headaches among users who have updated to that operating system, and has also released a fix for troubles plaguing the new 13-inch MacBook Pro with Retina display.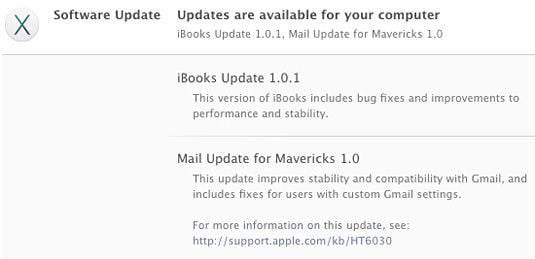 Fire up Software Update or launch the App Store, and help is on the way
Soon after Mavericks' October 22 release, users began to report problems with iBooks, Safari, and the Remote Desktop client, and Gmail users discovered that Apple's Mail app gave them fits when attempting to perform such simple tasks as receiving and deleting messages, and auto-sorting them into folders.
Users who forked over $1,199 and up for the new 13-inch MacBook Pro with Retina display, which also became available on October 22, had their own problems: unpredictable freeze-ups of their trackpads and keyboards.
A fix for Mail was seeded to Apple employees as October came to a close, and fixes for the other Mavericks apps were made available to Cupertinians this Monday.
At the time of Monday's seeding, we surmised that Apple would follow its usual schedule and release the updates a few weeks after seeding them to developers. Nope – at least in the cases of Mail and iBooks. Both updates are now available from Apple Menu > Software Update, and the Mail update is also available here.
The trackpad and keyboard fix, MacBook Pro Retina EFI Update v1.3, is available here. If you're still having problems with Safari or the Remote Desktop client, however, you'll need to wait – but if Apple's new update cadence is any guide, you may not need to wait long. ®
Similar topics