Ging gang cloudy? IBM programmer packs it in for life as an online Scouts badge-tracker
The Last Boy Scout: Job's a good'un
Every week around 400,000 UK Scouts, Cubs, Explorers and Beavers meet and complete activities which contribute to potentially hundreds of badges - but the software which tracks their progress comes from a single enthusiast who saw a problem and created a solution.
Ed Jellard was, and still is, a volunteer scout leader. He set up Online Scout Manager (OSM) two-and-a-half years ago to help himself keep track of attendance and progress towards the myriad of badges available across the scouting age groups. But the service proved so popular he recently decided to jack in the day job and run OSM full time as a (very) small business.
Not that the UK Scouting movement lacks an internet presence. The organisation takes a portion of membership fees collected by local scout groups and spends it on, among other things, maintaining the comprehensive scouts.org.uk site. That service provides a huge amount of support in the form of bookkeeping templates and ideas for activities intended to let anyone run a scout group, but it stays clear of the day-to-day logging – which is why 75 per cent of UK scout groups are now signed up with OSM.
The basic stuff is easy: who turned up and how much did they pay is simple enough but the badges are central to the Scouting experience and considerably more complicated to administer, as activities may contribute to one or more badges. A Cub Scout who draws a map might gain steps towards Artist, Local Knowledge and Map Reader badges, all of which has to be logged and recorded so the right badges can be awarded.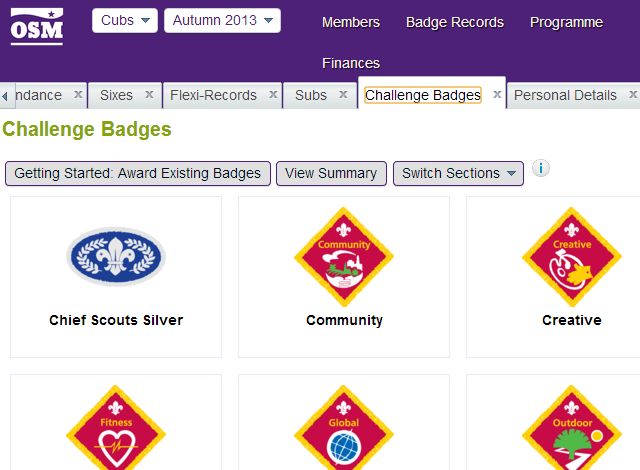 It's surprisingly hard to find a screen without lists of cubs on it
It's an application crying out for a cloud experience, which is what it now has.
Jellard launched OSM in April 2011 and signed up five per cent of the UK's 6,000 or so groups within four months. The service is freemium, but the basic version is very limited. £15 a year gets you access to a "Silver" level which includes the majority of features. There's also a Gold version with a few extras. It's not a lot of money, but with 75 per cent of UK Scouting signed up it was enough, earlier this year, for Jellard to jack in his real job as an IBM programmer and go full-time.
The Scouting movement is largely staffed by volunteers, and Jellard is no different when leading the local troop. Making a living out of OSM enables him to do more. In his own words, it's "the ability to change the lives of real people" that spurs him on. "That's why I'm doing it ... I wasn't getting that in the corporate world," he continued, a sentiment which drives many people to help out their local scouts each week.
The service is hosted by linode.com, on a couple of virtual Ubuntu installations using pHp and MySQL with Dojo running the queries. The first version was based on Apache but the one-time net standard webserver couldn't cope when user numbers got beyond a hundred - query time started approaching ten seconds, frustrating users who'd assume something was broken. These days OSM has moved to Nginx which seems better tuned to this kind of application, perhaps reflecting an industry migration away from Apache towards greater specialisation in web server software.
The killer value of OSM is that bookkeeping functionality, but Jellard has aspirations to extend the service into other areas of group management which distract from the fun stuff that scout leaders signed up to do. Parents can now pay for camps though the service, though only via Direct Debit for the moment – but they also get e-mail alerts about upcoming events and can track the progress of their offspring.
The platform on which OSM sits could also be used for other groups with similar needs, demonstrated by the recent launch of MyGuidesOnline (unlike the Scouting movement, which went universally coeducational in 2007, the Girl Guides remains a single-sex organisation). The most important thing is to stay ahead of the UK Scouting movement itself, which has made noises about developing a competitor which would seriously undermine, if not entirely destroy, Ed's business.
The Scout Association are creating a system called Compass which will mirror much of the functionality of OSM – and, crucially, be free to members of the Scout Association. Compass is scheduled for testing with groups early next year but Jellard is optimistic that he can value-add OSM to keep it viable, hopefully avoiding too much duplication:
"Our aim is for leaders to be able to opt in to sharing some data between the two systems so that you will be able to use the benefits of OSM and Compass on an ongoing basis," Jellard told El Reg.
But right now the combination of OSM and scouts.org.uk between them make light of filling sessions – and, most importantly, keeping track of what they were filled with – releasing the leaders from the admin burden and letting them get back to entertaining the kids and broadening their horizons. Just like the good Lord Baden-Powell envisioned. ®