The world's first 3D-printed metal gun has been produced – and we're told it's more accurate than its factory-made counterpart, but also much more expensive to manufacture.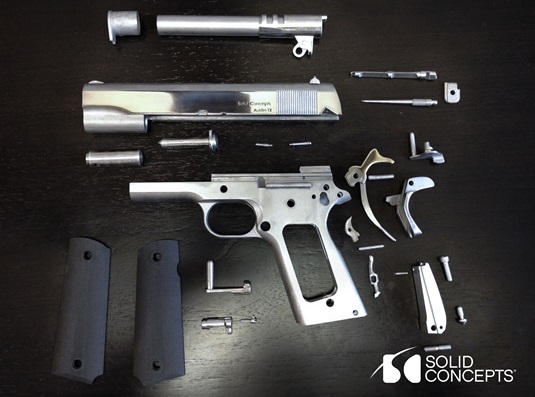 We come in piece(s) ... the world's first 3D-printed gun
The printed gun – a .45 caliber M1911 designed by legendary gunsmith John Browning and still in use by some US armed forces – was manufactured by 3D-printing specialists Solid Concepts using publicly available plans. The only parts there weren't printed were four small springs and the magazines, the firm's VP of marketing Scott McGowan told The Register.
"It's very accurate indeed," he said. "We gave it to our resident gun expert and after firing a few rounds with it, and a commercially available version, he found the printed firearm was more accurate on the range."
Here's the weapon in action:
McGowan said his company isn't trying to tout this as a replacement of traditional manufacturing techniques, merely a showcase to demonstrate what was possible with 3D printing in metal. The cost of the printed firearm is many times that of a traditional model, and the equipment needed to do it is highly specialized.
3D printing in plastics may be simple enough for home use, but metals are something else entirely. Once a design has been completed, four powerful lasers are used to fuse layers of powdered metal in the desired shape, layer by layer. The final object is then heat-treated and polished before use.
This isn't the kind of kit you can have in your garage. The power requirements alone are well over what is available in residential neighborhoods and the printer itself is very expensive. But the cost is coming down fast, McGowan said.
The company was able to build the gun legally because it has a federal license for the manufacturing of firearms. The US government is getting very strict about such licenses in the wake of the kerfuffle when hobbyists produced a printed plastic gun dubbed "Liberator," and put the plans online.
As El Reg's military expert Lewis Page pointed out at the time, the Liberator isn't much of a firearm. It's barely accurate, prone to self-destruct, and has to be reloaded after each shot. Solid Concept's model is as good, if not better than the real thing, and does show the potential of 3D metal printing. ®