This article is more than 1 year old
Google patent: THROAT TATTOO with lie-detecting mobe microphone built-in
What could POSSIBLY go wrong?
Google's Motorola Mobility division has filed an application with the US Patent and Trademark Office for a "system and method" to tattoo a mobile-device microphone with lie-detector circuitry onto your throat.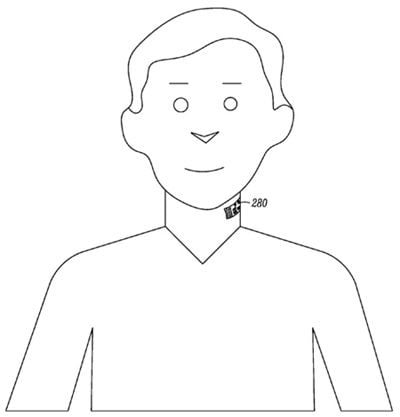 The next must-have bit of body adonment for the digital hipster?
Your immediate response, dear reader, was ours as well: What the...? With such a device tattooed on one's throat, it would make it rather painful to, say, switch carriers, eh? And with a lie detector permanently attached, NSA snoops could have a field day.
It wasn't until we had read at least halfway through the 10 pages of US Patent Application No. 20130297301, "Coupling an Electronic Skin Tattoo to a Mobile Device" that we encountered the words "flexible substrate".
Whew...
After our fears were so allayed, we were able to more objectively evaluate the application, filed on May 3, 2012, and published this Thursday during the USPTO's weekly patent-fest. In sum, some of the filing's ideas seem reasonable, and others risible.
We'll begin with the reasonable, then move on from there.
As the filing explains, in noisy environments it's often difficult to carry on a clear conversation using a mobile phone. A way to cut down on background noise would be a welcome development, and a microphone plastered on your throat, picking up your voice directly, makes sense.
The device in question could also be configured to transmit commands to your phone, also useful in a noisy environment and when one's hands are full. Power for the device could be supplied by a variety of methods, including "solar panel technology, capacitive technology, nanotechnology, or electro-mechanical technology."
The tattoo could also be programmed to respond to a variety of audio sources, including "a user's vocal intonation ... a specific word or words ... a melody ... or a harmonic tone/vibration," and in response to those inputs send a variety of notifications or commands to the user's mobile device.
Also, one envisioned embodiment wouldn't be an electronic throat tattoo at all, but instead "a collar or band that would be worn around the throat [of] a user." Even better.
Those ideas may be all well and good, but others go downhill from there. The filing also describes the electronic skin tattoo as having a display and a user interface. Needless to say, such a display and UI wouldn't be of much use unless one had a mirror handy to view it. Perhaps the UI text could be displayed in reverse.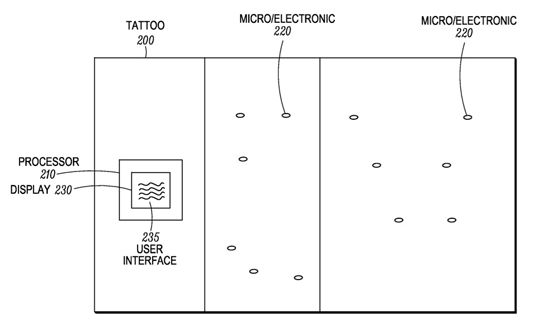 A display. On your throat. Where you can't see it. But others can
The display, the filing notes, could also "be selectable in a group setting, for example, where multiple users are wearing an electronic skin tattoo." The idea of multiple users poking one another in their glowing throats is not one that your humble Reg reporter finds enticing.
And then there's the lie-detector feature. "Optionally," the filing muses, "the electronic skin tattoo can further include a galvanic skin response detector to detect skin resistance of a user. It is contemplated that a user that may be nervous or engaging in speaking falsehoods may exhibit different galvanic skin response than a more confident, truth telling individual."
Thank you very much, but if I want to phone my boss to say I'm home sick with the flu when I'm actually kicking back with a cheap hard-boiled detective novel and a pint or two of Arrogant Bastard, I don't want my phone ratting on me.
The filing also notes that "it is contemplated that the electronic tattoo can also be applied to an animal as well." Useful, perhaps, if you regularly receive calls consisting of moo, meow, baa, or woof.
Finally, one small detail: nowhere in the 4,000-plus word filing does the word "remove" appear. ®