This article is more than 1 year old
Oooh! My NAUGHTY SKIRT keeps riding up! Hello, INTERNET EXPLORER
Get ready for Inori, the 'personification of IE'
Vid Microsoft has come up with a new way to market Internet Explorer to Asian customers, and it's a major departure from the kinds of ad campaigns we're used to seeing from Redmond here in the West.

Here she is, Miss Internet Explorer
Meet Inori Aizawa, Microsoft's latest spokeswoman. Or spokesgirl? Or spokes ... cartoon? Then again, maybe even "spokes" is the wrong word, because Inori doesn't always say all that much.
Inori is an anime character, created by animation studio CACANi on behalf of Microsoft Singapore for a special video that will screen at this year's Anime Festival Asia in Singapore this weekend.
Inori's design is typical of many young female anime icons. She has big blue eyes, lots of curly hair, and she wears a suspiciously short blue dress. But the main difference between Inori and all of the other Sailor-Moon-alikes is that Inori's outfit includes conspicuously placed Microsoft and Internet Explorer logos, because Inori is, we are told, "an anime personification for Internet Explorer."
That persona is more than skin-deep, too. Here's an early post from Inori's Facebook page – yes, she has a Facebook page – by way of introduction:
When I was younger, I used to be a clumsy, slow and awkward girl.

However, just like the story of ugly duckling, people told me that I have really matured and changed over the years. I feel confident in my abilities now, and I'm eager to show you what I can do.

Why don't you get to know me a little better?
Sound like any web browser you know?
Most of what Inori does, however, seems to involve less HTML rendering and more jumping around and shooting lasers from her hands.
In her wordless debut teaser video that was released to the web on Thursday, a cloaked Inori is seen running through a decrepit cityscape while being chased by malevolent robots. Just when we think they've gotten the better of her, she transforms into her magical IE form and sets them straight with a few zaps.
Pretty much sums up our experience from every time we've used IE
In a closing scene, we see Inori at home in her room, surrounded by the ordinary things that girls like. She has her cat, a couple of dolls, her computer ... and if you look carefully, you'll spot a Surface tablet, what looks like a Nokia phone, and even a W3C standards manual.
Lest you think this is just some practical joke, or an elaborate work of fan-fiction by deranged IE users, think again. One shortcut to Inori's Facebook page is through the domain internetexplorertan.com. A whois lookup on that domain reveals its owner as one Microsoft Corporation of One Microsoft Way, Redmond, Washington.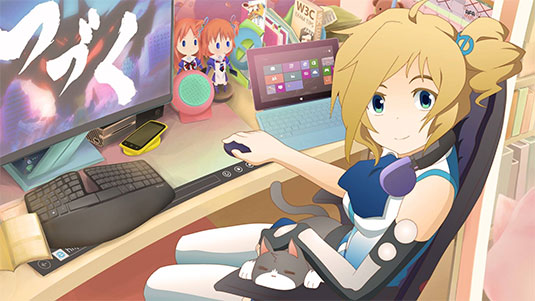 When she's at home, Inori sure does love Microsoft products. And CSS.
And there's more. If you're really, really taken with Inori – and if you are, we don't want to know – Microsoft plans to release a special version of Internet Explorer with a custom Inori skin. As of Thursday, however, download links were still pending – but she has a SkyDrive full of goodies for you, while you wait. ®