Streaming video now makes up more than half of internet traffic in North America as more and more internet users shun filesharing sites.
Netflix and YouTube now account for the lion's share of all online traffic, according to the Global Internet Phenomena Report by Sandvine (PDF - you need to register).
Netflix is top, with 31.62 per cent of downstream fixed access traffic, followed by YouTube, with 18.69 per cent. Bittorrent occupies the fourth place, with 4.05 per cent of traffic - significantly down from its heyday 10 years ago, when it made up more than half of all traffic.
However, Bittorrent still rules the roost when it comes to upstream traffic, accounting for 36.35 per cent.
Dave Caputo, CEO, Sandvine, told WSJ: "For the first time ever, peer-to-peer filesharing has fallen below 10 per cent of total traffic in North America, which is a stark difference from the 60 per cent share it consumed 11 years ago."
When it comes to mobile traffic in the US, YouTube is the top downstream site, wolfing up 17.69 per cent of the total traffic, followed by Facebook with 15.44 per cent. With mobile traffic, the top two are reversed, probably due to the number of people uploading selfies to Zuck's advertising empire. Facebook accounts for 20.62 per cent of upstream traffic, compared to YouTube's 13.20 per cent.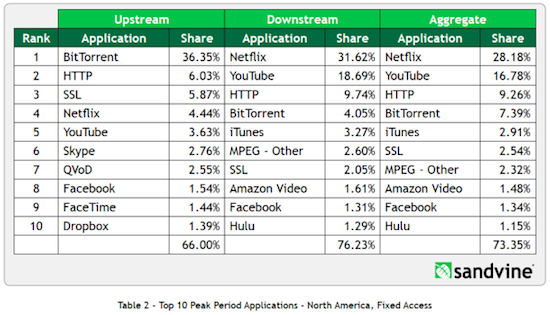 The report said: "Netflix continues to be the unchallenged leader for traffic, accounting for 31.6 per cent of downstream traffic during peak period. While we observed that their share of traffic decreased slightly since our 1H 2013 study, it should not be interpreted as a decline in the dominance of the service at the expense of their competitors.
"In fact, the bulk of data collection for this report occurred before Netflix made SuperHD content available to all subscribers, regardless of the service provider. Based on initial findings from customers, we expect Netflix share to return to or even to surpass its previous heights." ®
Similar topics