This article is more than 1 year old
Martian MOM LAYS another EGG in SPACE - but it's not big enough
Rocket chokes, but probe still 'in normal health', say India's space boffins
India's mission to Mars ran into its first problem today, failing to reach the required apogee of 100,000km when it tried to lift up its orbit.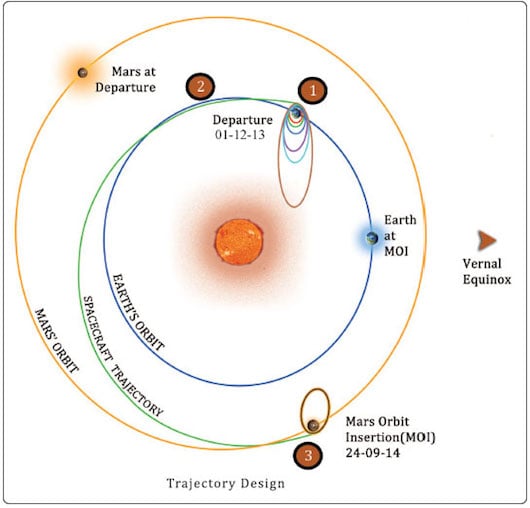 The planned orbital trajectory of India's Mangalyaan Mars probe
The Mangalyaan probe, aka the Mars Orbiter Mission or MOM, is due to keep circling the Earth for nearly a month, building up the height and speed necessary to perform a Hohmann transfer to the Red Planet in a series of gradually extending egg-shaped orbits.
The Indian Space and Research Organisation (ISRO) said in a statement that the satellite was still "in normal health" and it would try another orbit-raising exercise tomorrow.
This morning's orbit-raising was MOM's fourth and succeeded in pushing it from 71,623km to only 78,276km due to a failure in the flow control valve of the probe's engine. ISRO said that in the previous orbit-raising ops, the prime and redundant systems have functioned together correctly, but today, when both the primary and redundant coils of the solenoid flow control valve of were turned on together, the flow to the liquid-fuel engine stopped. The satellite continued climbing using its thrusters as a backup, as expected, but it wasn't able to reach 100,000km.
ISRO said that MOM didn't absolutely need to be able to use the two coils at the same time, because they could be operated independently in sequence instead.
With the extra burn scheduled for early tomorrow morning, MOM has three orbit-raising burns to go before it will get to around 918,000km from Earth: at which point it can head off to Mars. That moment is expected to come on December 1st, giving the probe until September 2014 to reach the Red Planet. There it will get its five instruments online to learn more about the composition of the Martian atmosphere. ®