Microsoft's Surface tablets have again embarrassed the company's bottom line, this time after failing to calculate a simple one accurately.
The problem was spotted by folks at Apple Insider who noticed a San Francisco billboard advertising Redmond's latest tablet. When they peered at it closely in the image below, they noticed something fishy.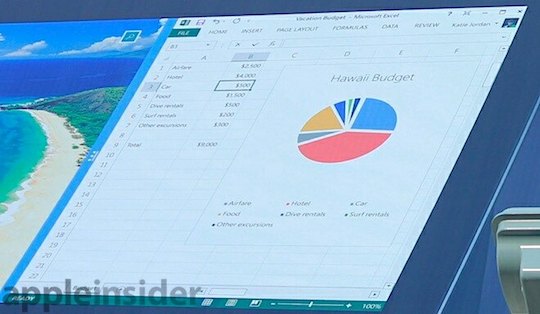 A billboard advertising Microsoft Surface, badly. Source: AppleInsider
Spotted the error yet? To help you out we've squinted at the spreadsheet and reproduced its numerical content here:
Hawaii Budget
Expense
Price
Airfare
$2500
Hotel
$4000
Car
$500
Food
$1500
Dive rentals
$500
Surf rentals
$200
Other excursions
$300
Total
$9,000
Whip out your calculators now, dear readers, and punch in that stack of numbers because the total should be $9,500.
Redmond watchers might wonder what's a $500 error between friends when the Surface has already carved a $900 million hole in Redmond's bottom line. Such folk might also wonder why anyone would spend $9500 on a trip to Hawaii when the diving's pretty fine around the Caribbean, the surf and diving can be good in Mexico and hotels likely far cheaper in both destinations.
But we digress: Excel's not had noticeable addition problems since 1994's Pentium bug, so it seems safe to assume this SNAFU came when rows to the value of $500 were inserted into the spreadsheet but somebody forgot to press F9 in order to recalculate the spreadsheet formulae. The result is the error in the ad and, doubtless, a very nasty meeting between Microsoft and ad agency about to land in someone's calendar.
Either that or another very, very, good reason for Steve Ballmer to leave Microsoft: this kind of accounting goes down very badly with US authorities. ®
Similar topics