Pic Colorado is one of two US states to legalize the sale of marijuana but this has led to an increase in complaints about the smell of skunk wafting through neighborhoods – so the authorities are using technology to cyborg up their inspectors.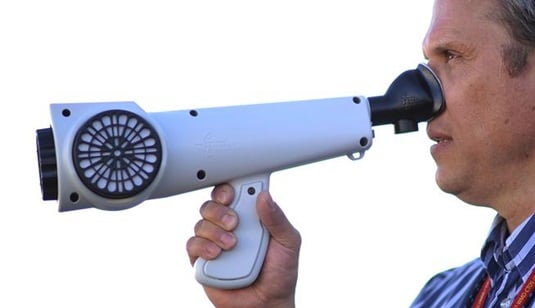 Looks silly, but serves a serious purpose. Credit: Hyoung Chang, The Denver Post
Dubbed the Nasal Ranger, the battery-powered device looks like a telescope for the nose and uses a series of filters to regulate how much of the suspicious odor enters the testing chamber. The gadget measures how strongly the air needs to be inhaled for a valid sample to be obtained and thus the environmental inspector can gauge the dilution ratio of the odor in comparison to everyday air quality.
Under Coloradan law, the odor of wacky baccy must be greater than a 7-to-1 dilution rate to be deemed a nuisance, netting a $2,000 fine for the person emitting the stink. Alternatively a violation of the law is enabled if more than five people complain about the stench in a 24-hour period.
"Odor can be subjective. It's hard to legislate odor," Denver Council president Beth Susman told the Denver Post. "The strength that is required to register on the Nasal Ranger is something we need to look at. I also wonder if people will get used to the smell and the dislike of it now may change over time."
So far the Nasal Ranger hasn't managed to find anyone breaking the new laws on pot smells, and even the warehouse-sized grow houses that have sprung up in the state are staying on the right side of the law.
"It has to be a very strong odor," said Ben Siller, from Denver's department of environmental health. He said that growers typically use filtering ventilation systems in their facilities to avoid bothering the neighbors, but he and the Ranger get frequent calls for testing.
"I had an old guy call, complaining about this unusual odor whenever he drove past Mississippi and Santa Fe," Siller said. "I knew right away what it was, and told him that it was marijuana. His reaction was, 'What?'" ®