HDS unveils embiggened array: We HAF vays of making you flash
All-flash array inside storage array
HDS has updated its HAF all-flash array, doubling the size of its proprietary SSDs to 3.2TB and the resulting maximum capacity to 38.4TB. It has picked the week of EMC's XtremIO announcement to release the news.
The HUS 150 array has had support for Hitachi Accelerated Flash storage modules added, bringing, HDS claims, "enterprise-class flash to the midrange storage market."
HDS Accelerated Flash (HAF) is a different take on a flash array. It is inserted inside an existing HDS storage array with the resulting system configured either as a disk + HAF hybrid or all-HAF, meaning all-flash, array. The performance is pretty good, witness this SPECsfs2008 benchmark.
The HAF comes in a 2U rackmount tray that holds a controller and up to 12 Flash Memory Drives (FMD) built using consumer-grade MLC flash. Each FMD includes a drive controller ASIC, DDR3 and SAS interfaces and is a device creating physical LUNs with a SAS interface.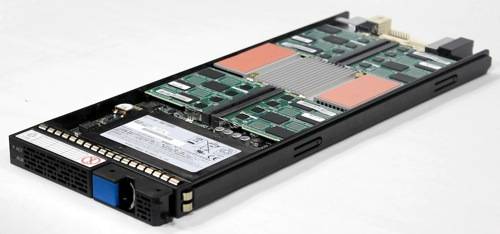 HDS HAF FMD
HDS says that its FMDs, proprietary SSDs, are smaller, denser in capacity terms, and faster than off-the-shelf SSDs. There are 1.6TB and, now, 3.2TB capacity points giving total enclosure capacities of 19.2TB or 38.4TB respectively.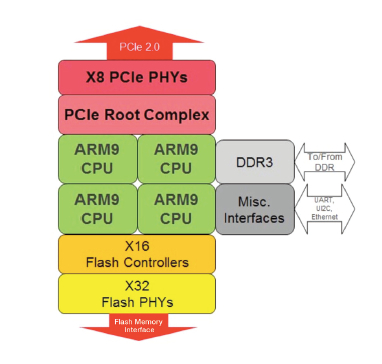 HDS HAF ASIC schematic diagram
The HAF controller is an ASIC with a quad-core processor with four 1GHz, 32-bit A9 ARM cores, 8 lanes of PCIe, and support for 128 flash chips with 32 parallel paths to the flash storage. It provides inline compression, thin provisioning and zero block write avoidance. The PCIe interface links to an external SAS target mode controller.
The HAF controller carries out wear-leveling across the FMDs. Wear-levelling is also done inside the FMDs.
View the HAF as HDS's all-flash array, one that talks to accessing server applications through a VSP, HUS VM or HUS 150 controller; it being a flash array inside a drive array and not a standalone device. The VSP and HUS VM and 150 controllers, virtualised storage array controllers, provide RAID 1, 5 or 6 data protection as well as other data management functions and the external interface to accessing server applications. They are also managed by the Hitachi Command Suite which, therefore, manages the HAF trays as well.
If EMC took this approach the XtremIO array would be a module inside a VMAX or VNX array.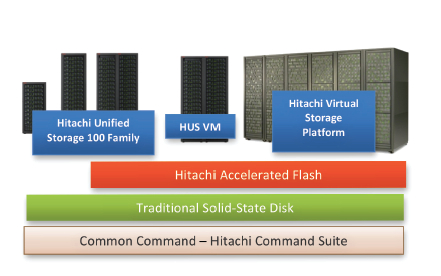 HAF supported by most HDS arrays
The VSP, HUS VM and HIS 150 arrays can be configured with just hard disk drives, a mix of disk and flash (hybrid) with Hitachi Dynamic Tiering of data across the various drives, or be all-flash. The all-flash systems could use either SSDs in the disk drive trays or HAF trays, which provide better performance, extended flash life, lower power needs, and take up less physical space than SSDs.
A VSP supports up to 338TB of HAF capacity, eight HAF trays we understand, whilst a HUS VM supports up to 154TB, 4 x HAF trays. The HUS 150 supports less; we're finding out the exact number.
HDS's HAF approach is unique. As far as we know, no other supplier is effectively putting an all-flash array inside its existing arrays, gutting their internals or running alongside them as it were, like a full organ transplant, except the brain (drive array controller), and doing so with proprietary gear.
That gives it a performance advantage, data management software advantages inherited from the parent array, and, we shall see, a possible total cost of ownership edge.
Hitachi has also announced:
Higher performance blades for Hitachi Compute Blade 500 and Compute Blade 2000 Servers, using Xeon E5-2600v2 "Ivy Bridge" processors.
PCI IO expansion blade for CB 500, combining "existing integrated, shared network switches with dedicated PCIe-based host bus adapters (HBA) and cards, such as nVidia GRID K2 GPGPUs for shared virtual desktops (VDI) and server-based flash for faster Oracle database, SAP HANA and similar applications.
The combination of Hitachi and HDS is a gold-level sponsor of the Open Stack initiative.
Check out a HAF datasheet here (small PDF) and a longer white paper here (20-page PDF). ®