This article is more than 1 year old
Mixed bag of motors lifts India's budget Mars shot
Solid rocket boosters and hypergolic cocktails
India's budget* Mars Orbiter Mission (MOM) last week thundered heavenwards from Sriharikota spaceport atop a Polar Satellite Launch Vehicle (PSLV), en route to a rendezvous with the Red Planet in September 2014.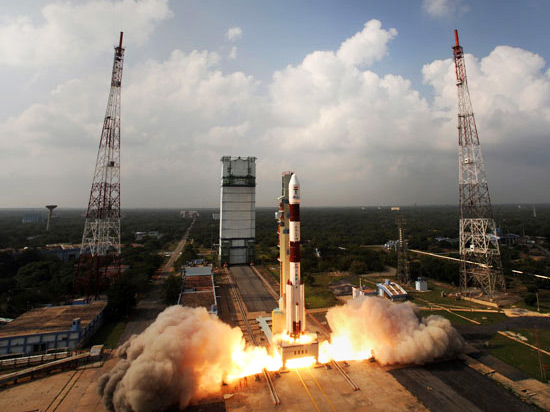 PSLV-C25 blasts off. Pic: ISRO
Weighing in at 500kg, plus 850kg of fuel, the MOM spacecraft was well within the 1,800kg lifting capability of the PSLV-XL ("extended") variant tasked with getting it Marswards.
The PSLV is an interesting beast, boasting a mix of solid rocket and hypergolic engine tech.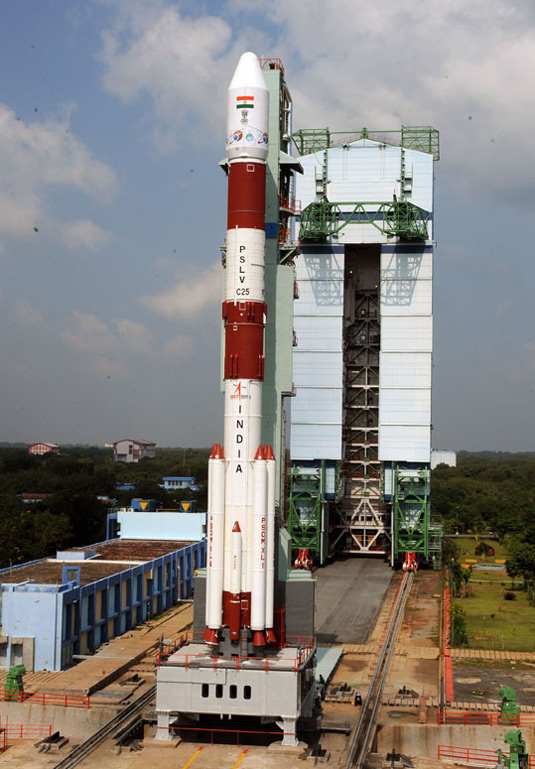 PSLV-C25 on the launchpad. Pic: ISRO
Its principal first-stage thruster boasts a mighty 139 tonnes of hydroxyl-terminated polybutadiene (HTPB) bound propellant. Strapped around this core are six solid rocket boosters (SRBs), four of which fire at launch and two which fire around 30 seconds into the flight.
Such engines are a popular choice among the rocketry big-hitters. The European Space Agency's (ESA) Ariane 5 uses two SRBs to provide an extra kick up the backside. They burn ammonium perchlorate composite propellant (APCP) - aluminium powder and oxidising ammonium perchlorate held in HTPB.
The PSLV's second-stage booster is, by contrast, a locally built Vikas engine burning approximately 40 tonnes of unsymmetrical dimethylhydrazine (UDMH) and nitrogen tetroxide (N2O4).
The Vikas Engine. Pic: MTAR Technologies
Many nations are now ditching hypergolic cocktail burners in favour of engines using less volatile fuels.** Russia's long-serving Proton, for example, uses no less than 10 N2O4/UDMH motors - six in the first stage, three in the second and one in the third.
However, its planned replacement, the Angara 5 rocket, will rely on a kerosene/LOX-powered "Universal Rocket Module" first stage.
Similarly, China is eyeing kerosene/LOX for future versions of its Long March, which currently rise heavenwards thanks to N2O4 and UDMH.
Back at the PSLV, meanwhile, once the Vikas has done its job, seven tonnes of solid propellant power the third stage. After that, it's back to a hypergolic blend for the fourth stage, as two engines slurping monomethylhydrazine (MMH) and nitrogen oxides finally send the payload on its way.
The PSLV's exotic rocket motor mix has propelled it close to the top of the reliability league table. To date, it has executed "24 continuously successful flights", a performance described by the Indian Space Research Organisation as "superb". ®
Bootnotes
*£45m ($74m) - small change in Mars mission terms.
**For more on rocket motor propellants, see "Rocket boffinry in pictures: Gulp the Devil's venom and light a match".