SHIVER ME TIMBERS, it's Assassin's Creed 4: Black Flag
Last one up the Old Seadog gets a lick of the cat
Review A little bit of colour goes a long way in Assassin's Creed 4: Black Flag. It's a game that takes the series' parkour-heavy gameplay away from the bleak, ice-covered setting of the American plain, and drops it into the steamy, sunny Caribbean.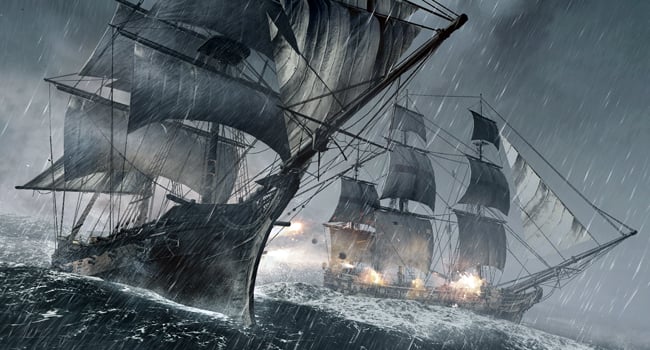 Arcade fire
The golden age of pirating, circa 1715, awaits as we join Edward Kenway – even more surly a pirate than Blackbeard, we're told – in his journey from seadog to assassin. Albeit by way of the shortest montage sequence you're ever likely to see.
Wisely, Ubisoft has this time opted to throw the player straight into the action, so the game opens with some naval combat and escalates quickly from there. Don't expect to be waiting for five hours before the main character so much as dons his ubiquitous white hoodie, this time around.
The standard Assassin's Creed yarn unravels in its own impenetrable way: Templars, assassins, precursor race, blah, blah, blah. Missions also follow the familiar formula. It's a good thing, then, that the story plays second fiddle to the game's crystal clear oceans, sandy shores and treasure islands.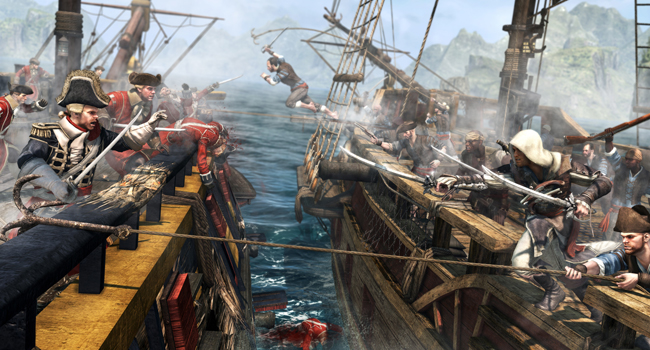 Prepare to be bored [Surely "boarded" - Ed]
Indeed, the setting is good enough to have spawned a whole new pirating series, had Ubisoft the pluck cut the rope that docks the game to the Assassin's Creed franchise. It's not hard to imagine a rollicking good title where the player takes on plunderers and military alike, before heading off with a treasure map in hand to find Big Whoop.
Kenway is a devil-may-care, in-it-for-himself rogue for the most part. And while the story might try to paint him as a romantic, seduced by the allure of the freedom of the seven seas, there's no doubting his selfish love of adventure. He's a kind of Captain Jack Dancer from the the pages of 2000AD's The Red Seas, minus the shagging, boozing and one-liners, mind. Even so, he's a far - and refreshing - cry from the moralistic Connor of Assassin's Creed 3.
Even before he's even indoctrinated into the ways of the Assassin, Kenway is free to take on side-quests that cast him in that role. It's a ploy by Ubisoft to open up the game's content as early as possible, but it's one that makes the game feel unnecessarily fragmented. It simply rings untrue and, as such, is distracting.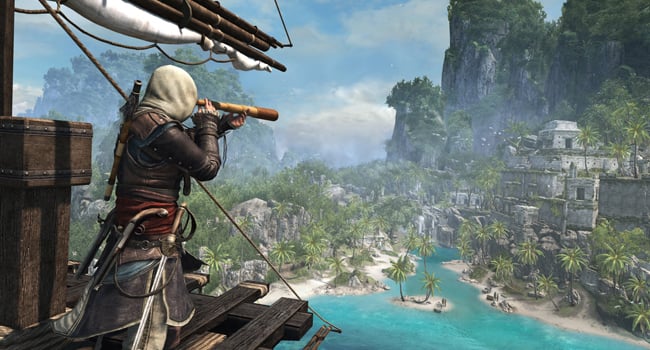 It says, "Jack Sparrow woz 'ere"
Away from both plot and characters is the familiar blending of stealth kills and bloodletting that the series is famous for. AC's combat is increasingly taking its cues from Rocksteady's Arkham franchise. Countering incoming attacks is here likewise the best way to deliver a deadly riposte.
That said, our buccaneer does have a few tricks of his own, not least the ability to carry four pistols with which to subdue groups of enemies in particularly satisfying fashion.
Something about Black Flag's engine does make combat a tad clunky, however. All too often you're attacked by off-screen assailants. Attempting to play by stealth can be frustrating because of the ludicrous number of guards that have been posted to protect rooftops.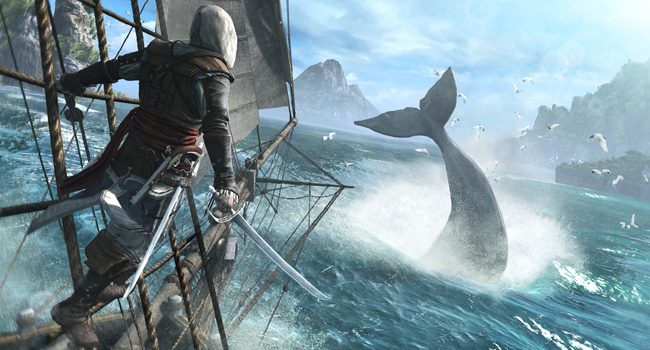 Prince of whales
At least the Benny Hill moments, which saw hordes of soldiers chasing poor old Connor in Assassin's Creed 3, for example, have largely been trimmed this time around. You'll still get chased, but the number of guards in pursuit is more sensible now.