Under the banner of King Death
Kenway can also put a halt to such chases by standing his ground and taking on his pursuers. In another nod to Arkham City, the death of the final guard giving chase will take place in slow motion, an indication that the coast, for now, has been cleared.
A large chunk of the game's combat takes place on the high seas, with battle by cannon appropriately playing an even greater role in Black Flag than in its predecessor. Holding the right trigger allows you to scan the distant ocean through a spyglass, allowing you to find and identify those ships worth plundering.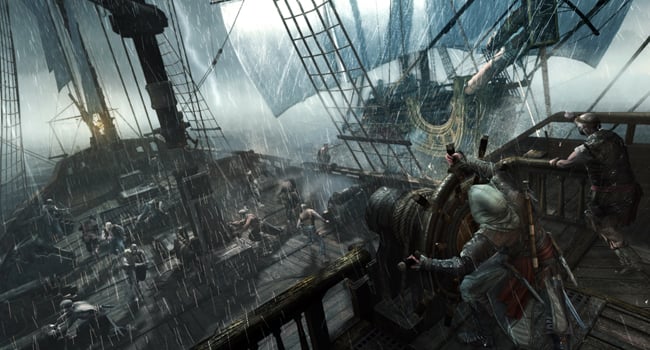 Getting tossed on the decks
Then, after hushing your sea-shanty-happy crew, it's a matter of crippling your prey during ever-impressive battles on the churning seas.
Captain Kenway and his scurvy crew will swing across to the other ship to take on its sailors. The trick here being to have a very big crew with which to subdue the enemy, or be particular quick when deploying Edward's unique ability to kill.
Raids are all carried out with a view to acquiring cash and resources in order to upgrade. Ship, weapons, items and health can all be improved in a system that channels Monster Hunter, though without quite the same depth as Capcom's classic.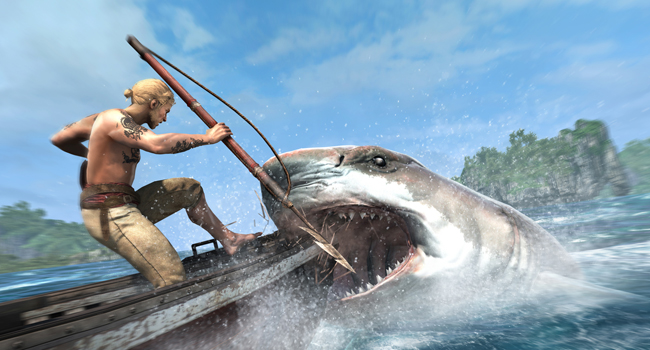 "Aaaah, you have a woman's mouth... I'll wager, etc, etc"
You'll even have cause to go out and hunt the beasts of the Caribbean. Though quite why the bones of a great white shark - acquired by playing a harpooning mini-game - are required to forge a health upgrade is never really explained.
Online, the game transforms into a game of cat and... well... cat, as assassins hunt each other down. At least that's the case in modes such as Manhunt and Wanted where players disguise themselves before blending into the crowds to either hide from or ambush their prey.
Other types of online play include Artifact Assault and Domination - think capture-the-flag and capture-and-hold, respectively - with both making good use of AC's parkour-friendly engine. So far I've found the online experience reasonable, though I'm not convinced I'll keep returning to it in the way I will to Battlefield 4, say.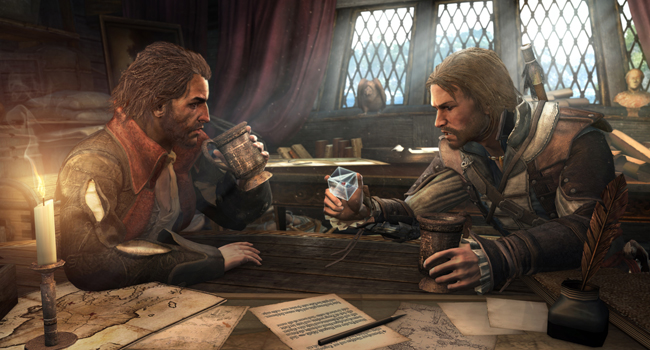 "Would that be your own urine you're drinking?"
The Reg Verdict
The star of the show is the sumptuous Caribbean, as the sunshine, rum, sea battles and shanties inject some much-needed flavour back into the Assassin's Creed franchise.
Old problems such as baffling plot holes and occasionally fiddly combat recur, and the missions become repetitive. But the scale and beauty of the game were sufficient to reignite my interest in the franchise. But it really needs some fresh ideas for its next voyage out of port. ®

Similar topics