This article is more than 1 year old
Ultimate electric driving machine? Yes, it's the BMW i3 e-car
The smart 'leccy car from the folks at Bayerische Motoren Werke
First Drive People can sometimes behave like sheep. They will go somewhere, do something or buy a certain product simply because other people are doing so or because they recognise the brand. Call it consumer herd mentality. It's one reason why the Toyota Prius sells so well in the States.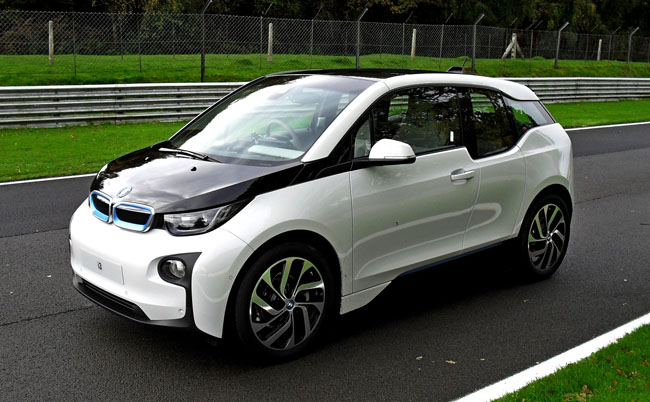 Brands Hatch bound: the BMW i3
Here in Blighty, we've seen viable, everyday electric cars from Renault, with the Zoe, and Nissan, the Leaf, but to be honest neither name is really strong enough, in the UK at least, to flog 'leccy motors just by dint of brand association.
But now BMW has joined the electric vehicle party, and that's a brand that most certainly is strong enough. The new BMW i3 will draw in punters simply because it has a propeller logo and kidney grille on its snout. But is that the only reason to consider it?
Even a cursory glance is enough to see that BMW has opted for a radical design. Compare that to the Zoe, whose shape follows Renault's overall styling language and looks rather similar to the new Clio, though to my eyes the Zoe is the prettier car. Pretty the i3 is not, but it is a bold and brave design that grows on you, especially up close and in the metal. Well, in the aluminium, carbon fibre and plastic, to be precise.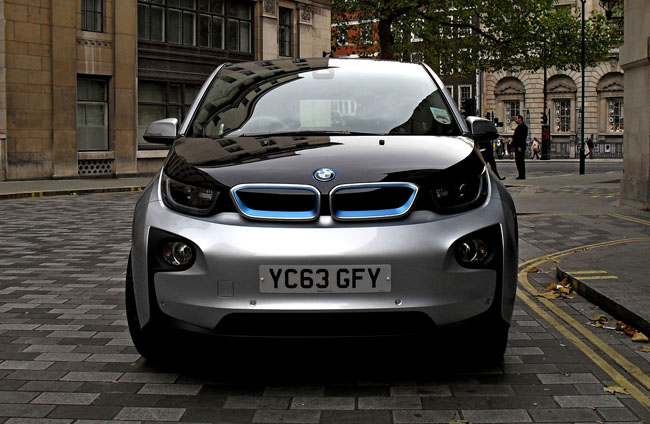 No question it's a Beemer
The i3 is not built like any previous Beemer, but I'll spare you details of a production cycle that claims to use only renewable energy and stick to the engineering.
The base of the vehicle is made entirely of aluminium and contains the battery pack in the floorpan as per the Zoe. The battery in question is a 19kWh lithium-ion affair made up of eight modules, each having 12 cells. This can be charged from a standard domestic 13A socket or from a 32A 7.4kW wall box. The i3 will also accept a charge from a 50kW DC fast-charger. The battery comes with an eight-year, 100,000 mile warranty as standard.
According to BMW, you can charge an i3 in between eight and ten hours from a domestic socket, or in three hours from a 7.4kW wall box. With a DC charger, you'll have to wait 30 minutes to one hour. In the day I spent driving the i3, I couldn't quantify any of that so you'll have to wait until El Reg gets one for a week-long test next month for some real-world numbers.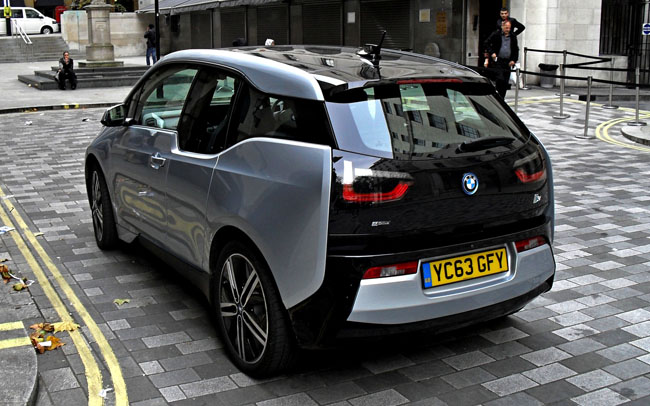 Appealing rear?
On top of the aluminium drive module sits the carbon fibre "live module" to which is bolted the plastic body panels. BMW reckons the i3 is one of the safest cars of its size, though I resisted the temptation to drive it into a tree to find out. The important thing about the construction is how light it is. The battery-only or BEV i3 – I'll come to the range-extender, REX version in a moment – weighs 1,195kg, compared to the Zoe's 1,468kg. The i3's battery accounts for 230kg of the total.
Less weight means a car that can go further and faster. In everyday motoring, the i3 will cover between 80 and 100 miles on a charge, claims BMW. Stick it into Eco Pro mode, which dials back the power and acceleration, and you can add 15 per cent to that figure.
Opt for Eco Plus Pro, which limits the top speed to about 55mph, down from the usual 94mph, and you can add yet another 15 per cent. From my limited time in the car I'd say those projections are reasonably accurate but again, they are just claims for now.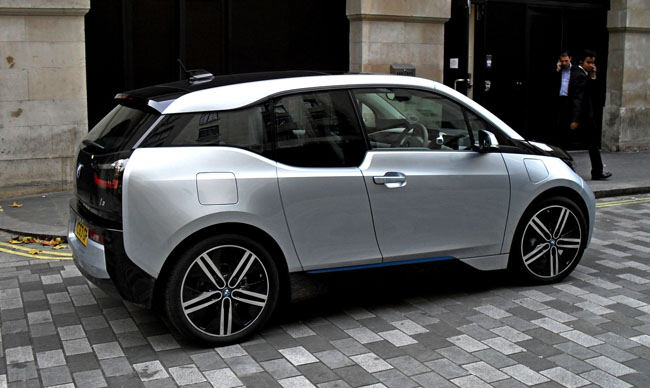 The i3 gets a lot of glances
If those ranges don't blow your socks off, you can cough up another £3,000 and get a REX i3 with a range-extender motor. This takes the form of a 650cc two-cylinder petrol engine buried in the back of the car along with a nine-litre fuel tank.