This article is more than 1 year old
Is it all up for LANDFILL ANDROID? BEHOLD, the Moto G
KitKat bruiser for the masses seeks to bury Google-powered allies
Pics The Moto G smartphone from Motorola has finally landed, as if you didn't know it already with its arrival leaking all over the web from reseller promo materials to Amazon product pages.
Still, this sort of thing is guaranteed to get attention. Considering it's all for an Android 4.3 Jelly Bean handset that's a mere £135 ($179) for the 8GB version, the folks at Moto and its parent Google will be rather pleased with themselves.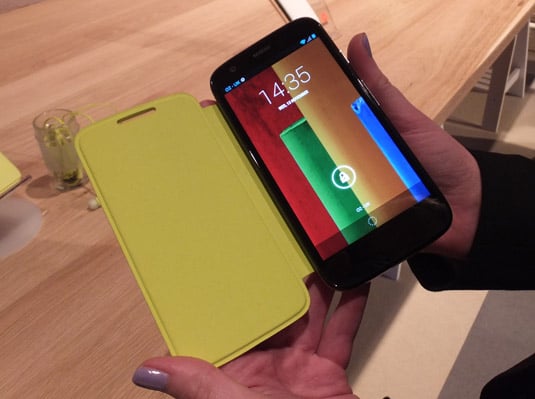 Comms cover up: flip shell anyone?
Yes, you can buy it today and there's a 16GB option for another £25 ($20) or so. As predicted, the Moto G features a 4.5in, 1280 x 720 329ppi display protected by Corning Gorilla glass and touts a Qualcomm MSM8226 Snapdragon 400 processor.
Clocked at 1.2GHz, this quad-core ARM Cortex-A7 processor with an Adreno 305 GPU was announced last December, so we're not seeing some tired system-on-a-chip that will be a struggle to run anything beyond Google's Android Gingerbread, aka version 2.3. Having 1GB of RAM on-board helps, too.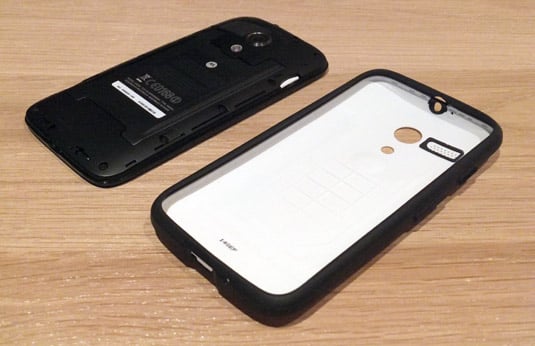 The Active shell, with its rubber edges is due early next year
There are a handful of phones using the Qualcomm Snapdragon 400 series of processors, but the Moto G appears to be a rarity in that it thrusts a quad-core chipset at the masses.
Indeed, owning something that affordable yet useable was pretty much the theme at the launch event broadcast live from Sao Paolo, Brazil to audiences in Mexico and London. It's curious how the UK was included among countries usually associated with ailing economies that obviously have plenty of customers looking for cheap comms.

No micro SD card expansion and the battery isn't removable either
As Dennis Woodside, CEO Motorola Mobility, said: "Most people in the world can't afford a $500, $600 phone. In fact, the average price of a smartphone today, in the world, is close to $200. The problem is that experience that smartphones in this class provide is really, really bad… they're slow, they're buggy, their screens are too small."
Woodside highlighted the choices available in this price range: either buy a cheap, new product made of old tech or a secondhand smartie of yesteryear. Evidently, none of this is going to appeal to Google, as analysing your web traffic in exchange for email, search and other services is its bread and butter. Now it owns Motorola Mobility, the thinking is to make a cheap enough phone that can provide its services without grinding to a halt or killing the battery in the process. Indeed, the Moto G is claimed to have an all day battery life.

Moto G vs. Galaxy S4: Do Samsung's Android extras really cost it so dear?
Given the sub $200 choices above, it seems this new Googlephone is designed to undermine the thriving "Android landfill" market and interest in used iPhones. Punit Soni, software product manager at Motorola Mobility, evangelised the benefits of "pure Android". It's said phone and tablet makers that slap a new skin on Google's mobile operating system confuse the customer – and that the extra "competing apps" installed by the manufacturer, often duplicating Android's supplied services, resulted in "non-intuitive, cluttered user interfaces" and consequently a slower handset. To prove the point, a slide appeared with select comparisons of the Moto G versus the flaghip Samsung Galaxy S4.
With this kind of talk, the Android vendor group-hug will certainly feel less cosy, regardless of the validity of these remarks. Next year, Woodside claimed "500 million people will be after a phone for under $200. We think they deserve better."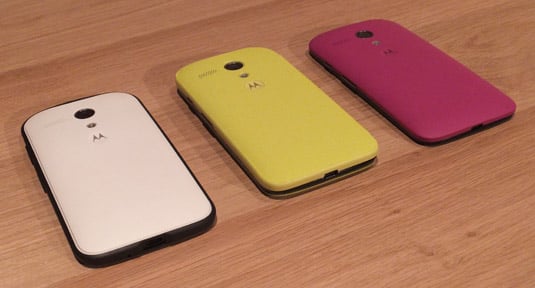 Cover options: active, flip shell and coloured shell
So it seems Google wants to own a slice of that market and ruffle quite a few feathers among the more complacent Android vendors, as the Moto G, with its CPU and RAM combination, is likely to stir things up a bit. Who cares about the Motorola shells? These coloured cases with options for Active (ruggedised) and Flip shell coverings add some differentiation at this price range and having an extra 50GB of storage for free on your cloudy Google Drive is a handy enticement too, but the real kicker is KitKat – Android 4.4.
Soni announced that Motorola will have that version of the OS ready for the Moto G in January 2014. Motorola used to be dreadful for its upgrade promises before it became "a Google company", but now it's going to be one of the first in line. ®