This article is more than 1 year old
Ricoh Theta 360˚ camera: Point and click immersive imaging
Your world in a digitally enhanced bubble
So much for sharing...
Oh, and if you're wondering upon the usefulness of importing these morphed images, Ricoh has a desktop app for Mac and PC. Annoyingly, it does rely on Adobe Air. Beyond the desktop is another annoyance; the Ricoh Theta 360 image sharing website requires a Facebook login to enable users to showcase their snaps on their dedicated area of the site.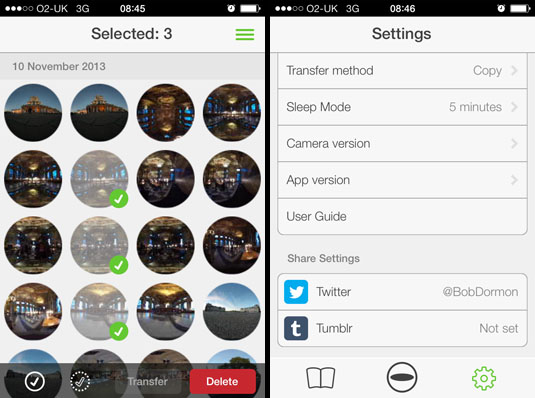 Selecting images can be a rather limited experience. Unless you're logged into Facebook, sharing options do not function
You can't even Tweet or add the pics to Tumblr even though these functions are available within the iOS app, because the Facebook login is a prerequisite. I'm not keen on Facebook – my reasons are probably the same as most who sidestep this social networking offering – so I'll not bore you with all that here. If you want to view how this all works online, at the foot of the Theta page you'll find plenty of examples.
There is an alternative which is a bit more involved, but you can always share the unprocessed images with a select few and have these intended viewers download the Ricoh desktop app. At 2.3MB, it's smaller than most of the images and you could easily include the installer alongside the images you send, although there's probably something in the fine print telling you that that's naughty.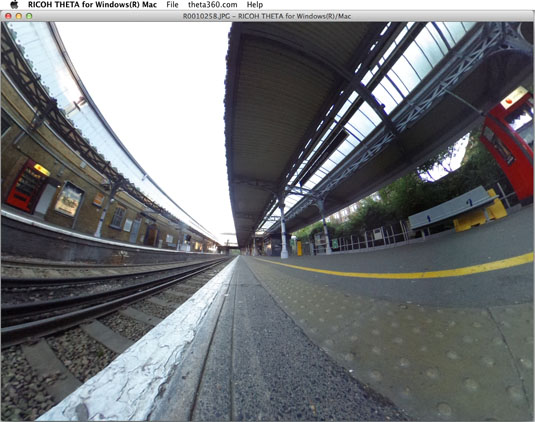 Desktop app enables zoom and twirl
If quirky is your thing, normal images (when resized and cropped to a 2:1 aspect ratio) can be opened in the Spherical Viewer and messed about with. It'll keep the kids amused and you don't even have to shell out £329 on the Theta either.
Another way for us FaceBook refuseniks is to use Microsoft's Photosynth app for iOS which now supports importing Theta images from the camera which you can then share how you like. It sounds good but the Photosynth sharing site requires Silverlight, which is a bit of a basket case sometimes. Viewing in Photosynth.net worked fine on the MacBook Pro RD 13in I was testing, but my tired 2010 iMac wasn't so keen, despite updating the Microsoft plug-in. See how you get on with these Theta samples on Photosynth.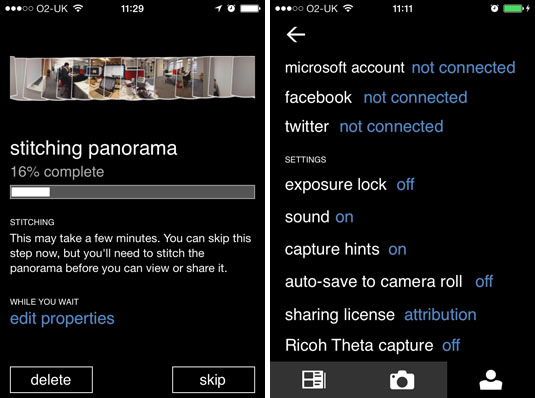 Microsoft Photosynth app would normally just stitch photos together, but now it has a Theta import
Yet considering the Theta is all about seamless stitching, these options aren't particularly well joined up. Alas, Photosynth can't access the low-res versions within the iOS device, as it has to link directly to the Theta. This, at least, ensures you'll always be using the best resolution. But what happens when you've copied images off and want to share them later? You're stuffed.
Shifting images around can be problematic in other areas too. There's an option to copy or move images from the Theta to the iDevice, all over Wi-Fi. Copying is fine, you end up with an album of all you images to view when the Theta isn't to hand. However, moving images to the iDevice means you lose the high-res versions from the camera and end up with just the low res images on there. And how do you get those moved elsewhere? It's Facebook time, as you can't get to them from iPhoto.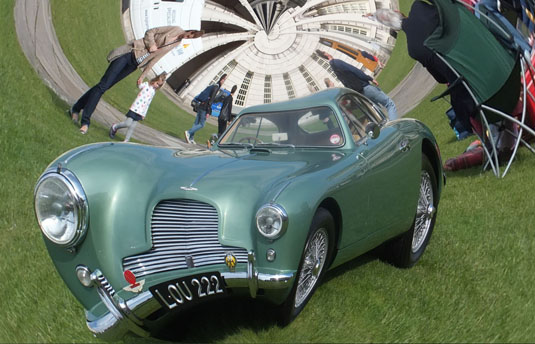 How a normal photo can look after Theta image processing
I know this because Ricoh had kindly included an iPod with Theta just to be sure I could actually do useful things with it. I was doing my let's-see-how-far-I-get-without-having-to-read-the-manual routine only to discover later that all those 360˚ photos I'd moved (not copied) to the iPod from the Theta couldn't be accessed for desktop viewing. A quick browse for an iOS file explorer app sorted that out though, with iFunBox doing the honours on this occasion.