This article is more than 1 year old
Ricoh Theta 360˚ camera: Point and click immersive imaging
Your world in a digitally enhanced bubble
The firing range
So that's the file management side of things. Er, what was that I was saying about easy to use? Perhaps I should have said: easy when you know how. Indeed, there is a certain amount of skill involved in taking the photos. Handheld shots can be rather distracting as close-ups of your thumb tend to ensue. I took to wearing black gloves in the end.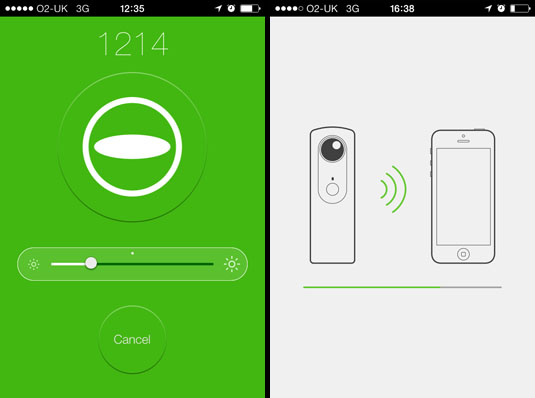 Green is for go: press the button an after the snap is taken the image transfers. Note the slider in this updated version varies exposure
That said, I did most of my Theta work on a small tripod, firing it remotely from my iPhone. Ricoh's iPod was fine but running iOS 6 and the Theta app v1.0, the latter I couldn't update without the Apple ID and the store was all in Japanese too. Hence, I eventually moved on to my iPhone 4S and iOS 7 to use the Theta app 1.2. There was also a 1.02 firmware update, that didn't take immediately as I wasn't using the supplied micro USB lead and it's a bit of a tight fit in the base.
It's just as well I did use the updated app as it features an exposure adjustment that doesn't appear on the earlier version. For me, this did address one of my grumbles with v1.0. I took a shot of the Thames Barrier from the dark covered riverside corridor which totally threw the exposure, causing the river view to be totally burnt out. With no exposure tweaks, there was no shot.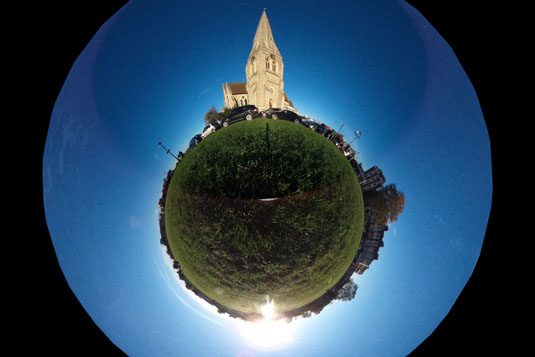 Planet Blackheath: after playing with the iOS app, even screen grabs make engaging images
Graced with the exposure adjustment, I'd take a test shot first, then hide behind a car or something to do the shot proper. This often tested the Wi-Fi range with some shots taken but not sync'ing to provide the in-app view at 30 metres. Certainly, as the iPhone battery life shrank throughout an afternoon's shooting, the range did begin to suffer.
Out and about, you don't have to have a tripod, as the 93g Theta can stand up on its base, but the extra height helps as the ground can appear to dominate otherwise. Given tripod use is expected and will be preferred by most serious users, it's both surprising and disappointing that there isn't a long exposure facility, enabling low ISO ratings. Instead, the Theta just tries its best to deliver a shot that won't be susceptible to camera shake. A consequence of that can be a high ISO setting with a very noisy shot to go with it.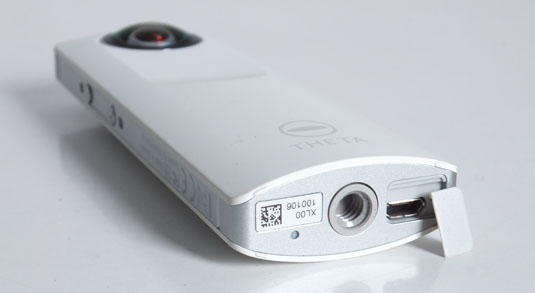 Fingernails required: micro USB cover unplugged alongside the tripod mount
The Theta badly needs a long exposure mode, not only to get better results with fewer grainy images but to enhance creativity. I gave up on night shots early on when I discovered that not even fast moving traffic produced anything much in the way of streaking lights – just blur and a rough looking image.
The images suggest a total sensor resolution equivalent to 6.3Mp – another issue that's going to reveal shortcomings when you zoom into images. The Ricoh states the Theta sensitivity range as 100 to 1600 ISO and the shutter speed spans 1/8000 to 1/7.5secs, with it all adjusted automatically on a pair of f2.1, fixed focus lenses with a minimum focusing distance of around 10cm.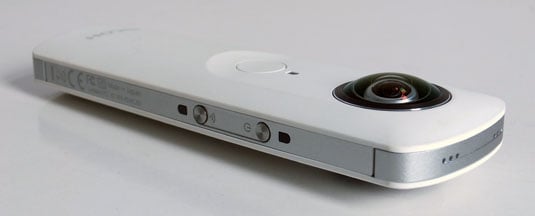 Without manual control and a higher resolution sensor, the Theta is hard to take seriously
The Reg Verdict
For the price, I'd be hoping for something more versatile than what Ricoh is offering with the Theta. I wouldn't be at all surprised if there is more in the works in this respect, but the lack of control restricts its use to perfectly lit environments to get a decent quality image. For instance, the examples from the Painted Hall, Greenwich look impressive until you zoom in, and then it all gets murky.
Moreover, Ricoh's dependence on Facebook to allow access to its various image sharing features is not going to suit everyone. Still, it's probably an indication of where the company thinks the market for the Theta lies. The photo manipulation is the most absorbing part and for the more surreal effects, the image quality is less of an issue.
However, the price will be an issue for many, especially as you'll also need have to an iOS device handy to see what you're taking. If all you want are some eye-catching fisheye images, then the basic Olloclip 3-in-one lens for iPhone is a mere £60. Evidently, Ricoh's Theta occupies a unique bubble of its own. ®

Ricoh Theta 360˚ camera: Point and click immersive imaging
Auto, dual-hemispherical lens camera creates 360˚ images on the fly with Wi-Fi control.