Avere, the filer accelerator supplier, has integrated cloud storage into its NAS universe, including Amazon's Glacier, with a single file namespace including on-premise and cloud storage.
Instead of providing a separate cloud storage gateway product, Avere has added the cloud gateway as a feature to its existing FXT filer accelerator product range, calling it Cloud NAS.
The FXT products have multiple DRAM, flash and disk tiers and are placed in front of filers, functioning as go-faster caches and providing an aggregated pool of file storage.
Avere's Cloud NAS combines local and cloud storage inside a NAS interface and, it says, adds the near infinite capacity of cloud storage to the finite capacity of on-premise filers. It turns the cloud into a tier for older, less active data that can be migrated from data centre filers to the cloud using Avere's existing FlashMove and FlashMirror products. These send live data to the cloud without there having to be a Fedex or UPS transfer of hard drives for the initial load.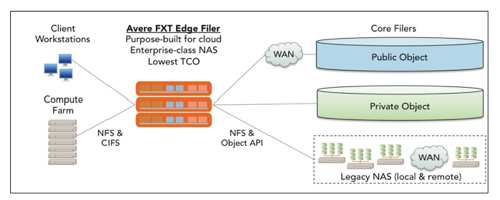 Avere FXT and Cloud NAS schematic diagram
When the background transfer is complete the FXT's file access pointers are re-mapped to point to the cloud. The source directories can be retained for disaster recovery or deleted to create space. Transmitted data is encrypted with AES-256 by the way.
Private clouds like Cleversafe are supported initially as we well as Amazon S3 and Glacier. Cloud NAS can talk to any private or public cloud with an S3 interface.
Data can be moved from cloud providers, mirrored to a separate location, or returned to ground-level, meaning on-premise storage, as needed. Cloud NAS is an on-ramp to the cloud. Customers don't need REST interface skills as the Avere products translate file access and movement language into the cloud storage instructions.
Cloud NAS includes FlashCloud, a product for FXT Edge filers. This transfers files to and from Amazon's S3 cloud storage and its Glacier archival data storage facility. It allows up to 450TB of data to be stored on-premise "to ensure a high 'hit rate' and low latency access to data." The filers can be clustered for high-availability.
The files sent to Glacier are frozen, but with a catalogue of the files and previews kept online in S3.
Avere's CEO and president Ron Bianchini said: "The combination of Avere with Amazon Web Services offerings gives [customers] an enormous cost advantage over traditional storage models and allows them to bend the data centre cost curve."
He said that using Cloud NAS was like talking to a local filer: "It's enterprise class, with high-availability and low latency. ... With [Cloud NAS] Amazon can come into the enterprise in a smooth way and on a level playing field."
The FXT now functions as a single file access cache and gateway, consolidating local filers, on-premise clouds and public clouds into a single global namespace with file-level access protocols.
This could prompt other cloud storage gateway suppliers, like Nasuni and Riverbed, to integrate backwards, so to speak, with on-premise filers and provide a global file access gateway function for their customers as well.
Interestingly NetApp aims to provide seamless cloud management across private and public cloud resources using its Data ONTAP software. Will it get private <--> public cloud data movement software?
Get yourself a read of an Avere technical white paper here (registration needed.) ®