Doctor Who @ 50 A small Australian boy's tricycle once made a massive contribution to a small antipodean slice of Doctor Who history.
The boy was named Geoffrey Dougherty and was lucky enough to have two trikes - an old and small vehicle and a new and larger ride. Big sister Kerrie and some friends from the University of Sydney planned to pinch the older machine to build and enter a Dalek in races to be staged at a 1976 science fiction convention. But Kerrie accidentally took the larger trike instead!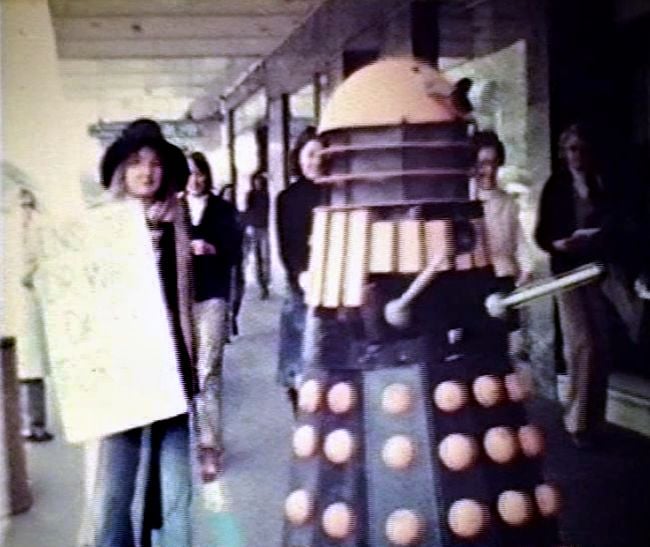 De-mon-strate! De-mon-strate!
"By the time we realised the mistake, it had already been built into the Dalek," Dougherty recalls. How poor Geoffrey reacted to the loss of his trike is not recorded by history. But Kerrie Dougherty said the racing Dalek was made of plywood, with the carapace's signature studs made from spherical money boxes given away for free by a local bank and sliced in half with a hot wire.
"Someone's mum or dad worked for the bank and we got a box of them for free," the one-time Dalek driver remembers.
Dougherty is now glad the larger trike was pinched: it was easier to pedal, which helped Sydney University beat Adelaide and Melbourne Unis in the test of speed and skill.
The Dalek made many more appearances around the University of Sydney, where the Science Fiction Association (SUSFA) wheeled it out on Open Day and similar occasions.
That Dalek races took place in Australia in the mid-1970s bespeaks the emergence of antipodean fandom. By 1977 the nascent community had a cause to rally around: the ABC (the Australian Broadcasting Commission as it was back then, Commission became Corporation in 1983) wasn't screening new episodes of Doctor Who in a timely fashion.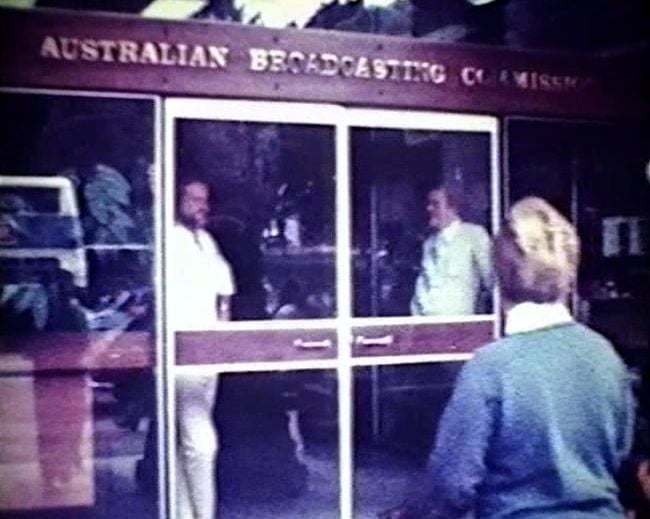 The belly of the beast: ABC HQ, Sydney
Letters to the ABC protesting this state of affairs produced a devastating answer: the broadcaster had decided not to continue buying Doctor Who, so was uninterested in screening the episodes it already possessed.
Dallas Jones, also a SUSFA member in 1977, says the next course of action was obvious. Australia in 1977 was more radical than it is today. Massive anti-Vietnam war rallies had been a feature of the early 1970s, and the 1975 dismissal of Prime Minister Gough Whitlam by the Governor General, the British Monarch's representative in Australia, had also seen hundreds of thousands gather in protest.
"A demonstration of some sort was the sort of thing that you would do at the time," Jones told The Reg.
"The other reason to do something public was that we had a Dalek and we thought it would be good to take it onto the streets of Sydney. We were not that savvy but we thought if we turned up there might be publicity."
"We thought they might pay a bit of attention to us," Kerrie Dougherty adds. "I'm not sure in our heart of hearts we thought we could make a difference, but with the enthusiasm of youth we felt we could be heard."
Video
The day of protest, recorded for posterity
Dougherty's father had a trailer and enough time to bring the Dalek to town, so in August 1977 - the exact date is lost to time - between 15 and 20 Who fans arrived outside the ABC's central Sydney headquarters, accompanied by the Dalek, waving placards and handing out pamphlets Jones had prepared to describe their grievances.
Similar topics