Doctor Who @ 50 There is a range of events the Doctor's companions can expect to encounter, from meeting his most arch of enemies to being flung bodily through time and space, and undergoing various forms of attack.
One might presume the more adventures they have, the more of these experiences they'll gain, so the radius of the slices indicates the number of stories each companion appeared in, while the centre number is their episodes total.
It's no surprise, then, that Dodo or Liz gained less from their time with the Doctor, and yet Mel and Harry undergo more trials and tribulations in a similar number of episodes.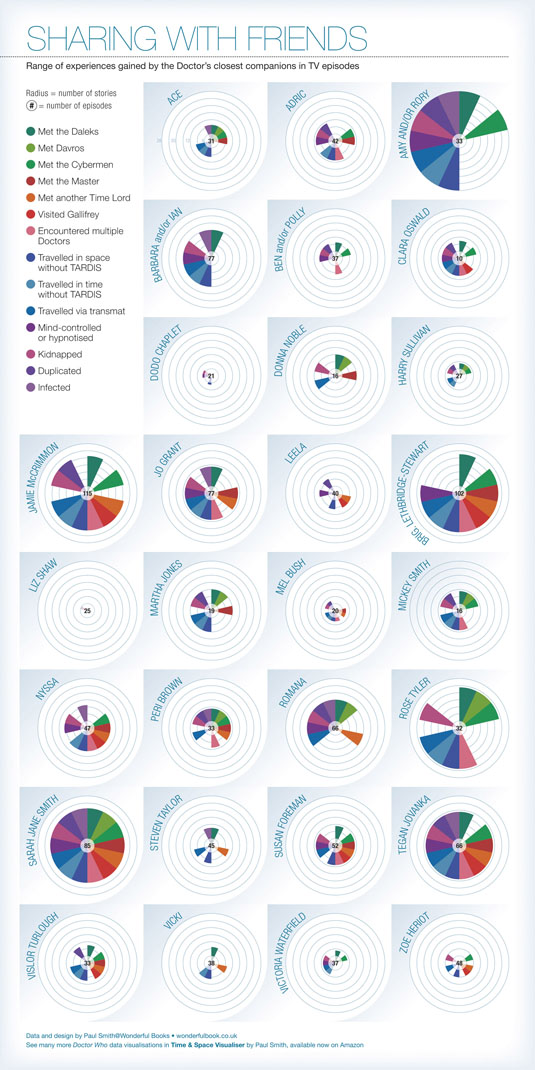 Click to see the visualisation full size
Source: Wonderful Books
While Amy and Rory appeared in the highest number of stories, their knowledge of the Doctor and his people is notably lacking. Indeed, Sarah is the only companion to face the full range of common terrors that travelling with the Doctor involves.
Tegan just missing out by not actually meeting Davros in Resurrection of the Daleks. ®
The image comes from Time & Space Visualiser: The Story and History of Doctor Who as Data Visualisations by Paul Smith, published by Wonderful Books and available through Amazon UK and Amazon US.