When Facebook's new Iowa data center goes live in 2015, it will be powered by 100 per cent renewable energy, the social network says.
Zuck & Co announced Altoona, Iowa as the site of its fourth major data center in April, saying that the new site will be a massive, 476,000-square-foot affair that will cost a minimum of $299.5m.
Among the reasons the company gave for locating the facility in Iowa was the Great Plains region's abundance of wind-generated power, which contributes roughly 20 per cent of the total energy for the state.
Now Facebook says that it expects all of the energy required to run its new data center to be supplied by a new wind farm being built in nearby Wellsburg, Iowa, which is due to be completed in 2014.
"We first started working on this project with RPM Access, a local wind project developer, as we were finalizing our decision to locate in Iowa," Facebook data center energy manager Vincent Van Son wrote in a blog post. "Earlier this spring, we transferred our rights to the development to MidAmerican Energy, our local utility, to build, own, and operate it."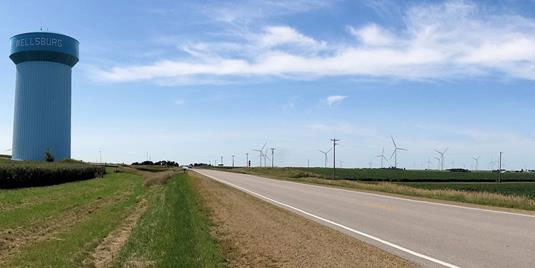 When it's finished, Facebook's Wellsburg, Iowa wind farm will look something like this, claims an artist
The new wind project is expected to generate as much as 138MW of power. It's not clear how much of that Facebook's servers are expected to draw, but it certainly won't be all of it. In 2011, Google estimated its entire, global power consumption at 260MW; Facebook's Iowa facility is only likely to require somewhere in the 20-30MW range. The rest of the generated power will be contributed back into the Iowa grid.
That excess capacity also leaves Facebook with room to expand. Its 194-acre Iowa site could potentially accommodate three data centers like the one it is building now, but each would need to draw an equivalent amount of power.
Not that this reliance on wind power will make Facebook completely green. Even its Iowa data center is sure to have filthy diesel generators on site in case of grid outages, and not all of Facebook's facilities have access to such a ready supply of renewable energy.
Van Son says Facebook's goal is to have renewable power account for 25 per cent of its total energy mix by 2015. By comparison, Google says it already draws more than 34 per cent of its global power needs from renewable sources. ®