Google says it is handing twice as much user data to governments as it was three years ago.
The advertising giant said it has seen data requests rocket by more than 100 per cent since 2010. The admission came as Google published its eighth Transparency Report, which reveals which governments have asked it for information.
However, these numbers may not reflect the full number of disclosures, because Google is not allowed to reveal any national security requests made under the US Foreign Intelligence Surveillance Act (FISA).
Google wrote: "Over the past three years, we've continued to add more details to the report, and we're doing so again today. We're including additional information about legal process for U.S. criminal requests: breaking out emergency disclosures, wiretap orders, pen register orders and other court orders.
"We want to go even further. We believe it's your right to know what kinds of requests and how many each government is making of us and other companies."
Earlier this year, Google brought a case against the government in a bid to reveal the number of FISA requests it processed. However, its request was knocked back.
Google added: "In addition, we recently wrote a letter of support for two pieces of legislation currently proposed in the U.S. Congress. And we're asking governments around the world to uphold international legal agreements that respect the laws of different countries and guarantee standards for due process are met.
"Our promise to you is to continue to make this report robust, to defend your information from overly broad government requests, and to push for greater transparency around the world."
The US government made the lion's share of the requests this year, with a total of 10,918 applications. Great Britain made 1,274 requests in the same period.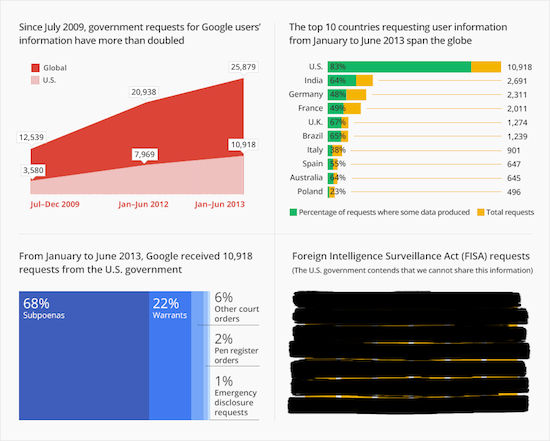 Of course, it would be remiss of us not to mention at this point that Google makes a living by harvesting data and then using this information to show its users targeted adverts.
Wethinks the lady doth protest too much. ®