This article is more than 1 year old
HUBBLE turns TIME MACHINE: Sees GLINT in the Milk(yway)man's EYE
Universe really does gets better with age
Pic Images from the Hubble space telescope suggest for the first time how our galaxy, the Milky Way, developed. And its scientists have put together a photo of how the night sky could have looked 11 billion years ago if humans and Earth had been around.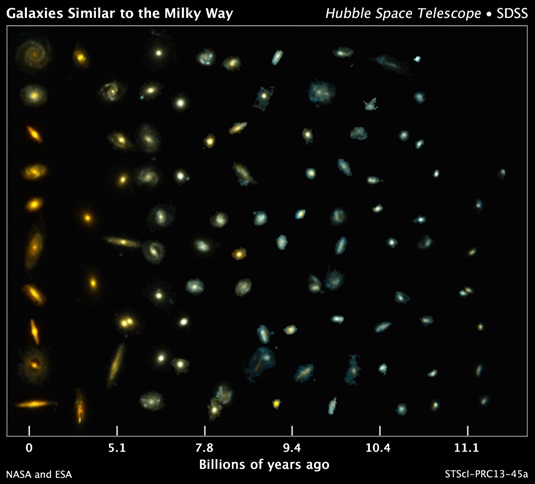 Galaxies get better looking with age
"For the first time we have direct images of what the Milky Way looked like in the past," said study co-leader Pieter G. van Dokkum of Yale University in a statement. Although anyone looking up at the stars in the evening will, strictly speaking, see into the past, van Dokkum's team is specifically peering into the era when systems were formed.
And, admittedly, to do this, Hubble had to shoot images of 400 galaxies of a similar type to the Milky Way to build the galaxy formation model. The systems were selected from more than 100,000 spotted in three surveys: the 3D-HST survey, the Cosmic Assembly Near-infrared Deep Extragalactic Legacy Survey or CANDELS, and the Great Observatories Origins Deep Survey or GOODS.
"Of course, we can't see the Milky Way itself in the past," van Dokkum acknowledged.
"We selected galaxies billions of light-years away that will evolve into galaxies like the Milky Way. By tracing the Milky Way's siblings, we find that our galaxy built up 90 percent of its stars between 11 billion and 7 billion years ago, which is something that has not been measured directly before.
"These observations show that there are at least two galaxy-formation tracks. Massive ellipticals form a very dense core early in the universe, including a black hole, presumably, and the rest of the galaxy slowly accretes around it, fueled by mergers with other galaxies.
"But from our survey we find that galaxies like our Milky Way show a different, more uniform path of growing into the majestic spirals we see today."
These range from images of galaxies formed about two billion years ago up to the present day. They show how a central bulge of older stars forms around a super massive black hole and a wide, thin accretion disc of planets and starts circulates around this core.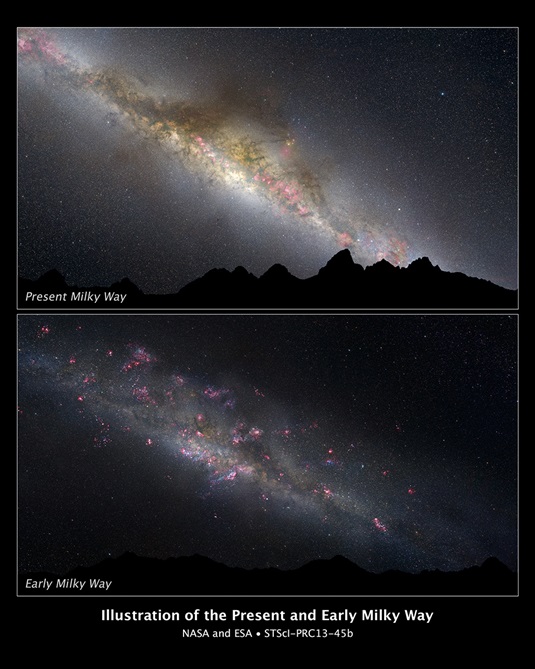 The night sky has got a lot better with age
"In these observations, we're capturing most of the evolution of the Milky Way. These deep surveys allow us to see the smaller galaxies," explained team member Joel Leja of Yale University.
"In previous observations we could only see the most luminous galaxies in the distant past, and now we can look at more normal galaxies. Hubble gives us the shapes and colors of these spirals as well as their distances from Earth. We also can measure the rates at which each part of the galaxies grew."
The research shows that galaxies like ours don't form from collisions with other galaxies, which appear to rip apart both parties, but instead via a slow accretion of matter and stellar nurseries to give a symmetrical structure like the Milky Way.
Unfortunately the Milky Way looks like it will suffer the same fate, since it is scheduled to collide with the Andromeda galaxy in about four billion years' time. The latest computer simulations suggest the collision will take two billion years and a new, more disorganized galaxy will form from the merger. ®