Quantum computer in world record qubit stunner
It's a bit more than just one or zero
---
Researchers have managed to store data in a qubit – a quantum computer's binary bit – and maintain it in a superposition state, where ones and zeros exist simultaneously, for 39 minutes, beating the previous record of just a few seconds.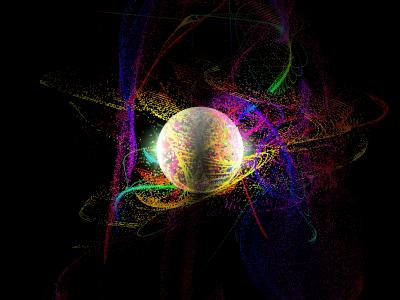 Hot stuff! What an artist reckons a qubit looks like
"This opens up the possibility of truly long-term coherent information storage at room temperature," said Mike Thewalt of Canada's Simon Fraser University.
The international team prepared a nuclei of phosphorus atoms in silicon and then slowly raised the temperature around the unit from the -269°C typically needed to get the thing work, all the way up to a human-friendly 25°C.
They found they were able to manipulate the information at room temperature before the qubit finally burned itself out, over half an hour later according to a paper published in hefty boffinry mag Science.
"39 minutes may not seem very long but as it only takes one-hundred-thousandth of a second to flip the nuclear spin of a phosphorus ion – the type of operation used to run quantum calculations – in theory over 20 million operations could be applied in the time it takes for the superposition to naturally decay by one percent," said Stephanie Simmons of Oxford University's department of Materials.
"Having such robust, as well as long-lived, qubits could prove very helpful for anyone trying to build a quantum computer."
The qubit used doped silicon, with the information stored in the 10 billion nuclei of the phosphorus. It's not perfect, since only 37 per cent of the nuclei retained information and they can't be individually manipulated, but the breakthrough opens up a new avenue to getting quantum computing off the drawing board and into a workable system.
"These lifetimes are at least ten times longer than those measured in previous experiments," said Simmons. "We've managed to identify a system that seems to have basically no noise. They're high-performance qubits. To have them controllably talking to one another – that would address the last big remaining challenge." ®
Similar topics
Broader topics